User-Centered Design for Patients in Home Environments
The 3rd Semi-Annual Medical Device Human Factors & Usability Conference takes place October 22-23 in Alexandria, VA. The event will join human factors experts from the medical device industry along with regulatory perspectives, including the FDA and TÜV SÜD for dynamic sessions in an intimate conference environment. Featured presenters, Yoko Sen of Sen Sound and Stephen Nelson of Medtronic will give a two-part presentation, "Tailoring Usability for Patients in Home Environments." Read on to learn more about Sen, Nelson and their session.
Can you both give a brief description of your backgrounds, job titles and what they entail?
Stephen Nelson is an industrial designer on the human factors team in Medtronic's CRHF division. In his role as Principal Scientist, User Experience & Human Factors Design, he works to make sure that products meet the needs of the user. Specifically he focuses his efforts on the look, feel and interface of products and systems. Through a human centered design process, he works to ensure that all of the user needs are identified and addressed. This process includes the generation of human factors deliverables for submission to governing bodies. Stephen has 8 years of experience in this role and enjoys the challenge of solving complex problems for meaningful products and systems.
Yoko Sen is an ambient electronic musician, sound designer and the founder of Sen Sound. Having spent time in hospitals as a patient with the sensitive hearing of a musician, Yoko was disturbed by the cacophony of alarms and noise, and since then embarked on a mission to transform the sound environment in hospitals. Yoko has served as an artist-in-residence at Johns Hopkins Sibley Innovation Hub, Stanford Medicine X, and KP Innovation at Kaiser Permanente and collaborated with medical device companies to improve their product sound to be more human-centered. Yoko was a speaker at TEDMED and Aspen Ideas Festival, and her work on hospital sound has been featured on New York Times and BBC.
Can you please give a quick summary of the presentation, "Tailoring Usability for Patients in Home Environments"?
This presentation will be delivered in two parts:
A case study for a recently released product for use in the home environment by patients.
An exploration of the value of sound design as part of the development of a medical device and how attention to sound can make a meaningful difference to the user experience with the product.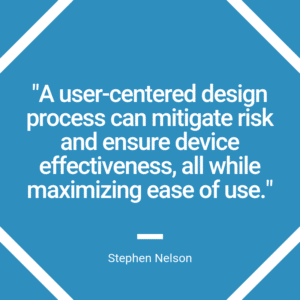 What are some examples of the differences to consider when designing a product for use in the home by patients and caregivers?
Patients and caregivers often possess different mental processes, levels of health literacy and physical capabilities than clinicians; these differences must be fully understood and accounted for when designing systems for home users. A user-centered design process can mitigate risk and ensure device effectiveness, all while maximizing ease of use.
What are a few takeaways you hope participants will gain from your session?
This talk will hit on the following key points:
Understanding the mental processes of users
Creating design principles that guide decision making
Anticipating situational stress and reducing patient anxiety
Designing every part of the user experience
A case study of collaborative sound design and its impact on users
View more information on the Semi-Annual Medical Device Human Factors & Usability Conference and reserve your spot today to take part.
Jessica Vallee
is a Content Marketing Associate for Q1 Productions, where she is responsible for campaign planning, content development and executing marketing projects for the life sciences, pharmaceutical and food and beverage industries.