The Q1 Productions 9th Semi-Annual EU Medical Device Regulatory Affairs Conference takes place September 18-19 in Brussels, Belgium. The program features a variety of expert presenters from the medical device industry and multiple notified bodies. Rainer Voelksen from Microport CRM will present a case study "Changing Notified Bodies all While Transitioning to the MDR." Read on to learn more about Voelksen and the takeaways participants can expect from his session.
Can you please give a brief description of your job title and what that entails?
My current position is Director – Global RA. This includes the responsibilities for all RA submissions for CE-marking via a notified body as well as all other submissions worldwide. My department also answers questions once a dossier is submitted and the notified body or another competent authority comes backs to us and has a request for more information or clarification. I'm the contact point for our notified body and for some competent authorities, but my team works with other regulators because of local languages.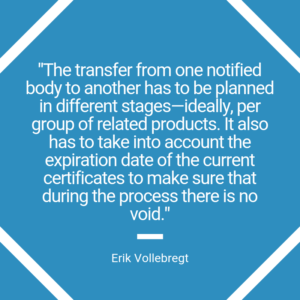 Can you give a quick summary your presentation: "Changing Notified Bodies all While Transitioning to the MDR"?
The challenge I would like to present is the double workload inside the company on the RA team, and also the clinical department and R&D. For all, this is transferring current products from one NB to the new one, and for implementing new SOP's, new forms to up-grade the QMS and to prepare the first MDR dossier.
The transfer from one notified body to another has to be planned in different stages—ideally, per group of related products. It also has to take into account the expiration date of the current certificates to make sure that during the process there is no void (a product not covered by an old or new certificate).
At the same time, you always have some new products to register and multiple coordination meetings to define the new Technical Dossier content, to up-date the SOP's, etc.
What are some examples of rationale for moving from one notified body to another you plan to cover?
Points to be taken into account are:
Be transparent to the current (old) notified body – communicate the planned end of transition.
Make sure to check that the new notified body is/will be notified for your product range.
Define a coordinator who continues to work with the old notified body, and a new coordinator to work with the new notified body.
Communicate difference: different focus (=diff checks), the new forms and SOP's, etc.
Establish and communicate a clear timeline to all teams involved and to logistics (label), etc.
Establish a constant communication to the new notified body.
What are 1-3 main takeaways you hope attendees learn from the presentation?
Overall planning and timelines/dates to be established at the start with both notified bodies.
New notified body has the full list of codes/will have the full list of codes for the relevant products to be transferred.
New notified body confirms timeline.
Learn more about the Q1 Semi-Annual EU Medical Device Regulatory Affairs Conference and reserve your spot for the upcoming event today!
Jessica Vallee
is a Content Marketing Associate for Q1 Productions, where she is responsible for campaign planning, content development and executing marketing projects for the life sciences, pharmaceutical and food and beverage industries.