Q1 Productions strives to meet and exceed the expectations of all client partners, and works to an unparalleled degree within the industry to ensure sponsor clients are satisfied with investments made in conference program sponsorship. From initial outreach prior to the meeting, to ensuring the on-the day experience is as seamless as possible, Q1 Productions covers every eventuality, planning and forecasting the needs of clients to facilitate a smooth experience. Sponsoring a conference shouldn't be hard, and Q1 ensures that it isn't.
HOW ARE Q1 MEETINGS DIFFERENT?
Primary focus is on high-level educational content that draws in delegates
Programs are continually refreshed and researched to ensure participation
Production staff are highly communicative and responsive to sponsor needs
Reputation matters: 80% of sponsors participate in another event within 12 months
Specialized content: First company to develop device & diagnostic specific conferences
2018/2019 ATTENDEES BY JOB TITLE
Vice President or C-Level

46%

46%

Director or Senior Director

40%

40%

Manager or Senior Manager

11%

11%

Other

3%

3%
THE AVERAGE NUMBER OF INDUSTRY PARTICIPANTS AT 2018/2019 Q1 MEETINGS
THE AVERAGE NUMBER OF SPONSORS SUPPORTING Q1 MEETINGS IN 2018/2019
THE RATIO OF INDUSTRY PARTICIPANTS TO SUPPLIER PARTNERS DURING THE 2018/2019 MEETINGS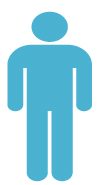 WHAT OUR SPONSOR CLIENTS ARE SAYING
"I'd be more than happy to collaborate in the future, Q1 organization skills were exemplary!" -Senior Director, Medical Devices & Diagnostics D-TARGET
"It was a great audience and a very well organized conference." -Head of Device Certification BSI GROUP
"It was a great conference and we appreciate your support. Sign us up for next year and we would be happy to be conference chair once again!" -Chief Marketing Officer WITHIN
"Thank you for organizing an outstanding meeting. As always, the meeting was excellently constructed and very nicely ran. We think it is definitely the best meeting we do each year." -President ALPHABIOCOM
"Q1's Pharmaceutical & Device Manufacturing & QA Forum was one of our most successful programs, where I generated two of the best leads from attending an event, one of which generated immediate revenue within two weeks of the forum." -Director Global Accounts SPARTA SYSTEMS
For more information about available sponsorship packages please complete the contact form or email marketing@q1productions.com. Please specify the name of the event you are interested in sponsoring.