New Requirements to Clinical Trial Design
The Q1 Productions 12th Semi-Annual IVD Clinical and Regulatory Affairs Conference takes place October 22-23 in Alexandria, VA. Renee Howell, Senior Director at Siemens Healthineers is one of the distinguished speakers presenting during the EU IVDR learning module on "Pre-Market Preparation and Clinical Trial Design." Read on to learn more about Howell and what attendees can expect from her session.
Background and Job Title
Howell is Senior Director of Clinical Affairs at Siemens Healthineers. Her group is in charge of all the clinical trials that are done for products related to CENTAUR immunoassay and clinical chemistry. She has been with Siemens for almost 5 years. While she is relatively new to her current position as Senior Director, she started her tenure with the company in the Quality Department as an SME assisting R&D and manufacturing teams realize product design focusing on product sustainability. Prior to this she has held management positions in R&D and Manufacturing at a number of IVD companies.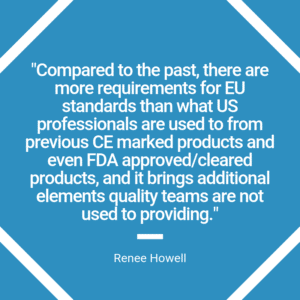 Presentation Summary: "Pre-Market Preparation & Clinical Trial Design"
Howell is speaking during the "EU IVDR Learning Module: Deploying Practices Compliant with the In Vitro Diagnostics Regulation." Her session will focus on pre-market preparation. She points out that it's clear from IVDR that the expectations have increased on what is needed to bring a product into the EU now. Compared to the past, there are more requirements for EU standards than what US professionals are used to from previous CE marked products and even FDA approved/cleared products, and it brings additional elements quality teams are not used to providing. She would like to touch on the Scientific Validity Report, which is not something that is specifically required by the FDA, but a new consideration.
Examples of New Requirements
"State of the Art" is an aspect Howell will cover during her presentation. She will dive deep into how to define it as well as how to demonstrate it. She notes that she anticipates other companies are going through this too, and she looks forward to getting input from meeting attendees for multiple perspectives.
Session Takeaways
One takeaway Howell hopes participants will gain from her presentation is strategies to tackle preparing for IVDR. She would like to include those from other organizations in attendance as well. Preparing for IVDR is a daunting task to take on for companies with larger portfolios, especially ones that were put on the market over a decade ago. She hopes through offering her personal experience and perspective, others will have something to learn from and be inspired to share as well.
Additionally, Howell aims to outline what the differences are about IVDR from what teams are currently used to doing for the EU, and those remaining differences from the FDA. In this, she would like the conversation to lead toward deciding ownership over project tasks within the different department groups in an organization.
Reserve your spot at the Semi-Annual IVD Clinical & Regulatory Affairs Conference to participate in Howell's presentation, the EU IVDR Learning Module as a whole as well as the several other sessions included at the program.
Jessica Vallee
is a Content Marketing Associate for Q1 Productions, where she is responsible for campaign planning, content development and executing marketing projects for the life sciences, pharmaceutical and food and beverage industries.