A Note from the Producer: Kayle Pasterz
The sales enablement role within the medical device industry has proven to be buzzworthy, currently influencing curiosity and competition within med device sales teams. Throughout two weeks of research with various device executives, from sales trainers to commercial operations teams, one thing was consistent – regardless of how you define it, sales enablement is critical for future success. If medical device manufactures do not take the necessary steps to align enablement efforts and provide the sales team with the tools they need to be successful, they will be steps behind a competitor who has an established strategy.
Sales enablement proves to be much more than just a technology strategy. Instead, enablement touches on several different areas throughout an organization's sales approach, which can be broken down into 3 categories: people, process and technology.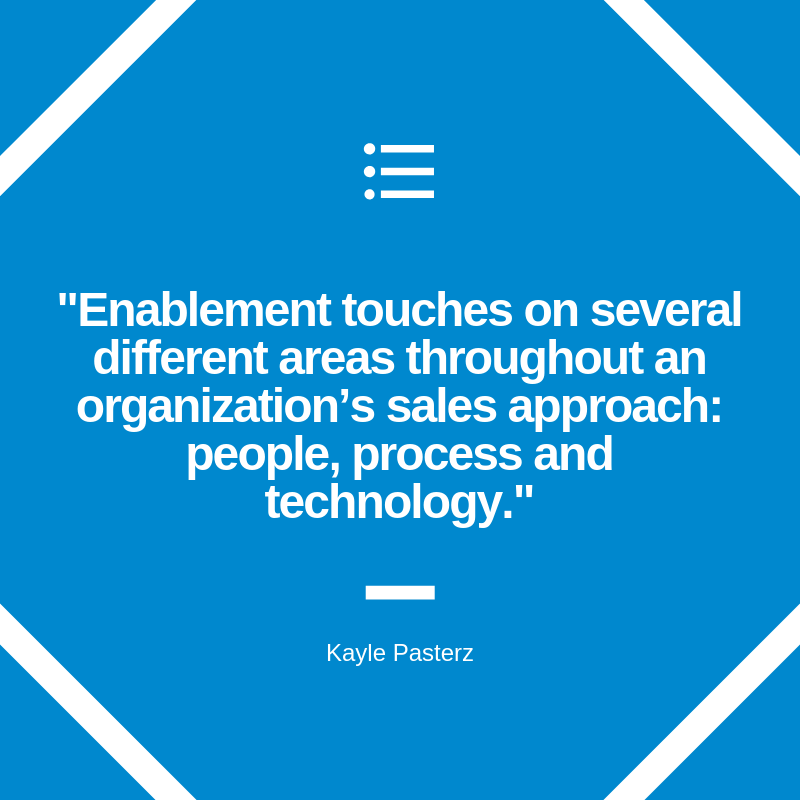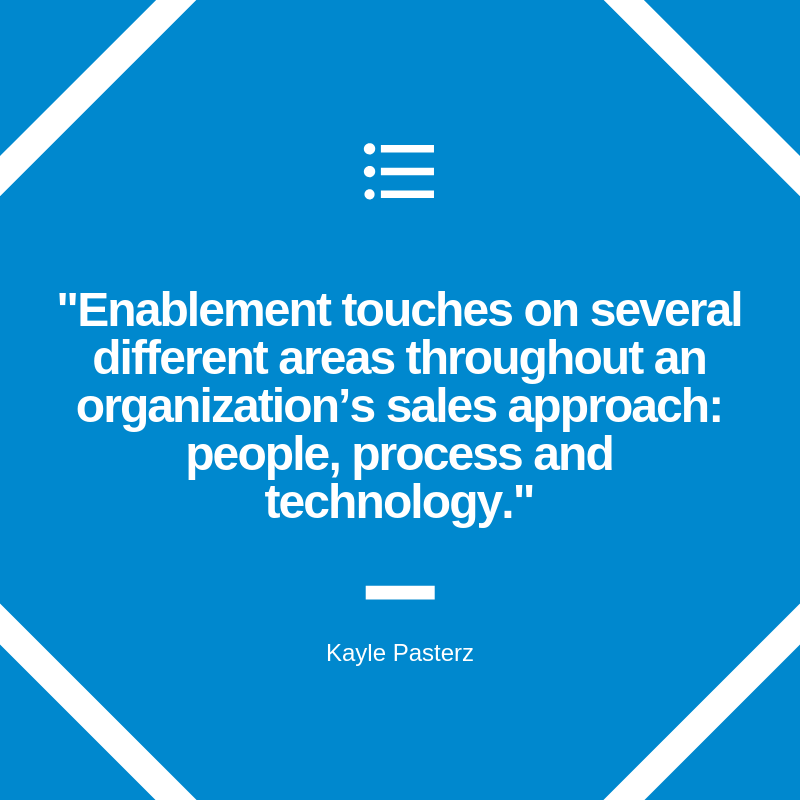 People
Under this bucket of sales enablement, consider the onboarding and professional development of sales representatives. In today's age, sales representatives and employees seek value and investment into their career, requiring medical device organizations truly take into account the development of their teams, for both new and veteran sales reps. This includes improved coaching strategies and detailed incentive and compensation plans. While only a handful of executives consider this a large component of sales enablement, their arguments are strong when we look at the end goal of sales enablement: ensuring the reps have everything they need for success.
Process
Cross functional collaboration, specifically between sales and marketing, is critical for an effective sales enablement program, and among most departments, a priority. With the healthcare landscape shifting the buying focus to value and outcomes opportunities, product knowledge becomes a critical component of the sales process. Communicating these value propositions through marketing materials and other sales tools plays a critical role in delivering a value proposition, and sales teams must have an accessible and engaging way to present information to the customer.
Technology
While technology can play a large role in the delivery of sales messaging, this component of sales enablement also includes the technology available to sales teams, such as their CRM or LMS programs, and using these tools effectively and efficiently. As technology continues to be a significant investment, it is important that sales leaders see high rep adoption alongside a high return on investment. As more technology companies establish themselves within sales enablement, conducting a thorough needs assessment to determine the products best suited to fit the needs of the sales force can be a complicated, yet rewarding, task.
This is a pivotal time for medical device sales executives and the term "sales enablement." While each organization has different goals and challenges, improving the effectiveness of the sales team is critical within the ever-changing healthcare landscape. Understanding the value of a sales enablement department and thoroughly considering the internal alignment of enablement responsibilities is a priority.
To complement our tenured Medical Device Sales Training and Education program, our inaugural Medical Device Sales Enablement event is a great opportunity for industry leaders to come together and discuss enablement as a competitive advantage. Preview our conference agenda for more details on sessions and key speakers.
Q1Web Admin
is a Senior Conference Program Manager in the Life Sciences division of Q1 Productions, developing programs centered on medical device commercial models. After growing up in Ohio, she received a degree in Strategic Communications from Miami University and moved to Chicago to advance her skills in marketing and communications. Kayle has been with Q1 Productions for 2 years, and enjoys the innovative industry of medical device and looks forward to networking and collaborating with industry leaders. Outside of Q1, Kayle enjoys creating vision boards for interior design and spending time outdoors with friends and family.