Navigating the Medical Device Regulatory Landscape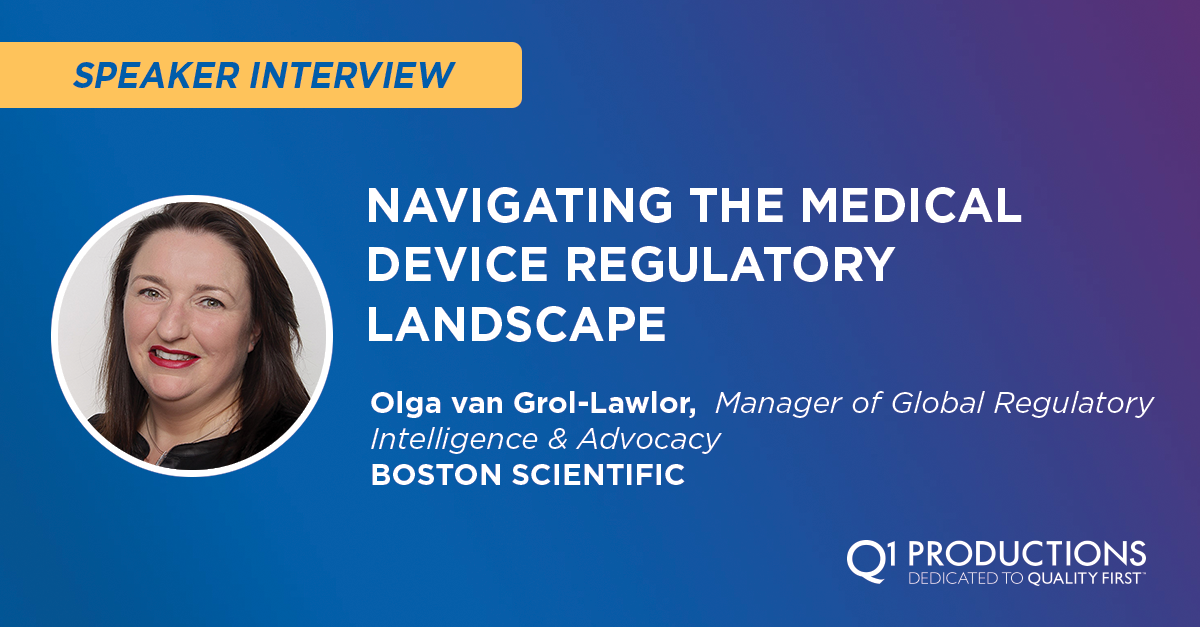 Olga van Grol-Lawlor, Manager of Global Regulatory Intelligence & Advocacy at Boston Scientific will join Q1 Productions as a distinguished presenter at the 13th Annual EU Medical Device Regulatory Affairs Conference in Brussels, Belgium. The event takes place October 19-20, 2022, where executive-level presenters, participants, and sponsor partners will come together for two days of networking and solution sharing. Read on for more about Olga's background and how she plans to share her expertise in promoting RI to propel timeliness & compliance.
Olga van Grol-Lawlor is a seasoned Regulatory Affairs Professional with over a decade of experience in the medical devices sector. Olga joined Boston Scientific in 2016 supporting the EMEA (Europe, Middle East and Africa) region before recently moving to Boston Scientific's Corporate organisation as the Global Regulatory Intelligence and Advocacy Manager. Olga has been involved in various MedTech Europe working groups since 2016, including EUDAMED and UDI. She currently serves as one of the industry representatives on the EUDAMED Actor Registration working group with the European Commission, and also participates in Advamed, MDMA, national trade association efforts and the GS1 Healthcare Public Policy group. She is a regular speaker in educational conferences on regulatory topics and has spoken at educational sessions for third country regulatory authorities on the EU Medical Device Regulation. Olga worked for Medtronic prior to moving to Boston Scientific and worked in the field of Equine Science prior to moving to medical devices. She holds a BSc degree in Equine Science and an MPhil research degree in Equine Endometrial Cytology and Bacteriology.
How do you describe the role of a RI professional as opposed to that of a Regulatory Affairs professional?
The evolution of the global regulatory landscape for medical devices is dynamic and fast paced. The need to keep up with these ever changing requirements is more important than ever for medical device companies to ensure timely compliance. I have heard the current regulatory climate likened to the 'perfect storm' with the new Medical Device Regulation and In-vitro Diagnostic Regulations being rolled out in Europe – as well as countless other new requirements globally from the Eurasian Union to Australia and beyond. Regulatory Intelligence professionals, not only keep pace with new and changing requirements , they ensure that relevant information is communicated to the right stakeholders in an understandable, digestible and informative format. Understanding the potential impact to your company (or not) of draft, new or changing requirements is paramount to filtering out the noise and focusing limited resources in a strategic manner.
Many Regulatory Affairs professionals in the medical device industry have an element of Regulatory Intelligence associated with their jobs, whether its monitoring local requirements and/or participating in local trade associations. They also have many other possible responsibilities from pre-market approval to post market vigilance activities – depending on the individual company or regional set up. At Boston Scientific, a small team of dedicated RI professionals use monitoring and communication tools to share impactful information across our company to the right stakeholders, at the right time. Collaboration with local Regulatory Affairs experts is essential for evaluating impact to the business. RI adds value by turning this surveillance into impactful and actionable information.
Which steps took you to your current role as Manager of Global Regulatory Intelligence and Advocacy in your company?
I started my career in Regulatory Affairs supporting the Middle East and Africa at a time when the leading regulators in the region like the Saudi FDA were launching their new regulatory frameworks. I absolutely loved being the regional RA point person communicating the new or changing requirements to the various business units in the multinational I worked for at the time. Communicating timely, actionable information to the various business units, ensured alignment of regulatory strategy and business goals to streamline patient access to life saving devices. Slowly the region I was responsible for expanded to include central and eastern Europe as well as central Asia and I was the regulatory lead for the sub-Saharan African expansion. I thrived analyzing and interpreting new market information and requirements. I eventually left for an offer I could not refuse to be highly involved in the Boston Scientific EU Medical Device Regulation project in 2016. My new position afforded me the opportunity to become much more involved in interpretation of EU requirements and the various trade associations, writing positions and influencing guidance documents etc. I started an internal monthly forum that pulled together all of our participants in the various MedTech Europe working groups as well as the Core Team members of the MDR project, to share information, align on responses/interpretations and communicate out to the relevant stakeholders. Further to this, I was also the point person in our management of regulatory requirements process for the EMEA region. When a dedicated Corporate Global Advocacy function was founded a few years ago, it was a natural progression that I would work closely with them. An opportunity to facilitate their Global Advocacy Forum and other Regulatory Intelligence projects, turned into a newly created role for a Global Regulatory Intelligence and Advocacy Manager. That's where I am today!
What is it that you like best about your position?
The variety, fast pace and collaborative environment! I thrive learning, processing and translating new information into meaningful output. Genuinely, the only constant in the current regulatory environment is change. On a personal note (although not a requirement for an RI professional), I am a sunshine yellow extravert. Being highly sociable, I love interacting with others at trade associations to shape positions and influence requirements. It gives me renewed energy, every time I present at a conference, make new connections and glean another piece of key /timely Regulatory Intelligence! I also love collaborating with all of my amazing colleagues at Boston Scientific to ensure that we translate our actionable RI into robust regulatory strategies.
Can you share 3-4 tips for individuals who are interested in growing a RI team?
The global medical device regulatory landscape is becoming more complex and difficult to navigate by the minute. Some key factors to look at when developing an RI team are:
Map out your internal customers' needs – what are your goals?

What is your budget and staffing allowance – this will differ depending on the size/structure of the company?

What activities and/or regions are in scope?

What Regulatory Intelligence tools will you use – these can range from free or low cost to state of the art.
Your number one focus should be to demonstrate the value that Regulatory Intelligence brings to the company. Ensure that your work is visible and that you are viewed as a valuable contributor who is invited to the table. If you can successfully demonstrate and communicate value, investment and growth will follow.
Why do you believe the 13th annual EU Medical Device Regulatory Affairs Conference is important to Regulatory Affairs executives?
The caliber of the speakers is absolutely phenomenal and the content is incredibly timely! I am personally looking forward to networking with all the industry thought leaders who will be present and have their finger very much on the regulatory pulse. As always, I'll be looking out for any nuggets of Regulatory Intelligence that I can glean! Never underestimate how valuable a good regulatory network is – building external connections can lead to invaluable sources of Regulatory Intelligence.
What do you hope attendees will take away from the panel discussions: promoting RI to propel timeliness & compliance?
The importance and value of Regulatory Intelligence as a defined role withing the Regulatory function. Companies have different organisational structures and needs. No matter how big or small your organisation is, there are strategies that you can implement to competitively navigate our dynamic and fast paced regulatory environment. Successful strategies add value, drive efficiencies and help you to advocate internally for an RI team or officer. This in turn, alleviates weight from Regulatory Affairs teams, streamlines market access strategies and ultimately allows timely patient access to life changing medical devices. I have yet to meet a regulatory professional who doesn't have the patients' needs as a key driver and motivator for the work they do.
Olga van Grol-Lawlor and other medical device regulatory professionals for dynamic sessions and more at the upcoming EU Medical Device Regulatory Affairs Conference. Reserve your seat today.