Meeting Diverse Health Needs Online
As greater emphasis than ever is being placed on the interplay between diet and personal health, modern consumers are seeking out food and beverage options that align with both personal health preferences and crucial medical needs. Cathy Burnheimer's session "Harnessing Online Models to Directly Meet Diverse Health Needs & Preferences" at the upcoming Food & Beverage E-Commerce Operations Conference dive deep into dietary needs of consumers. Learn more below.
Can you please describe of your job title and what that entails?
I am the owner of Popped Envy Gourmet Popcorn Company. Since we are only at the 18 month mark, that means I have my hand on every single thing that happens within the company.
Can you give a summary of the presentation?
I will discuss owning a food based e-commerce business that offers an allergy safe product. All of our popcorn is wheat/gluten, egg, peanut and tree-nut free.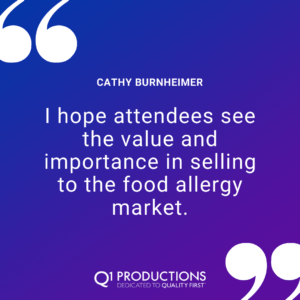 Can you give examples of how companies are using online models to increase transparency in innovative ways?
Companies are using Instagram influencers to promote their product by sending them free items and paying their fees.
Advertising with different health companies and non-profit groups.
What are some main takeaways you hope attendees learn from the presentation?
To have a better understanding of food allergies and what it means to be a dedicated facility.
To see the value and importance in selling to the food allergy market.
Why do you think food and beverage professionals should attend the conference?
With 1 in 13 children being diagnosed with food allergies, and larger number of adults being diagnosed, I feel that I have an interesting and important perspective. Not only do I own a food based business, but I have celiac disease and a child with multiple life threatening food allergies.
To learn more from food and beverage experts on managing diverse food needs and how to take advantage of the transparency and accessibility afforded by e-commerce, save your spot for an upcoming Food & Beverage E-Commerce Operations Conference.
Q1Web Admin
is a Content Marketing Associate for Q1 Productions, where she is responsible for campaign planning, content development and executing marketing projects for the life sciences, pharmaceutical and food and beverage industries.