Collaborating with Key Thought Leaders
Erica Wertz from Alimera Sciences is presenting at 6th Annual Customer Centric Medical Information Conference. Preview her session, "Collaborating with Key Thought Leaders to Enhance MI Communications," below.
Can you please give a brief description of your job title and what that entails?
I am the Senior Director of Clinical Science and Head of Medical Information at Alimera Sciences. In this capacity, my core job function is to respond to medial, unsolicited medical inquiries and to develop and update response letter content on an ongoing basis. As Senior Director of Clinical Science, I also work with the evaluation of scientific data from study readouts, poster and manuscript support/development in conjunction with Medical Affairs, medical review of promotional materials, support Medical Strategy and maintain the digital library platform for Medical. I have worked as a Medical Science Liaison for several companies as well as a Medical Information Specialist.
Can you give a quick summary of the presentation?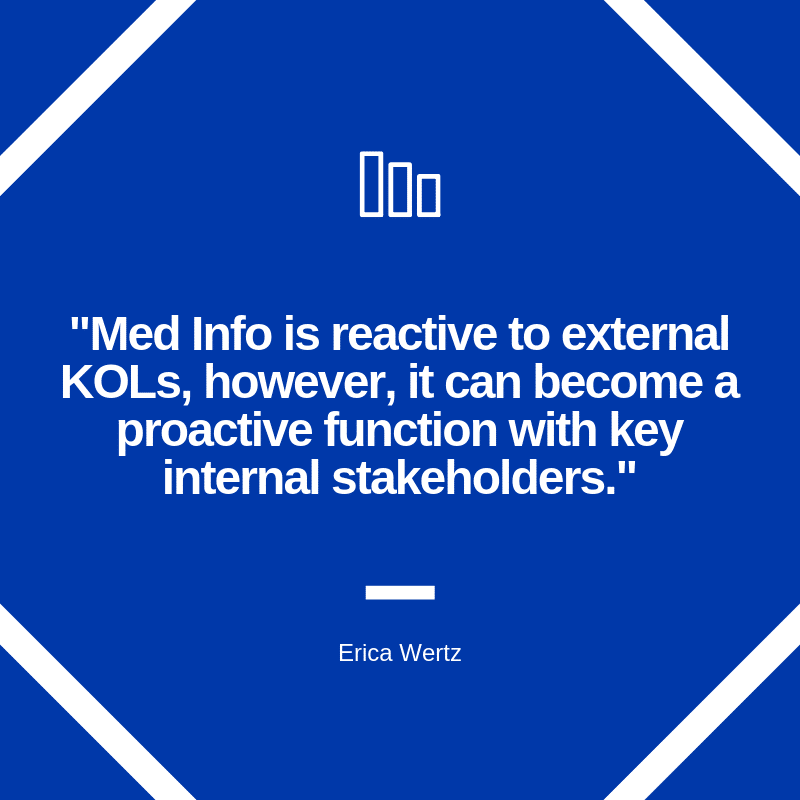 As a rule, Medical Information teams respond reactively to requests for scientific/medical information from health care professionals. Many health care professionals engage with their field-based Medical Science Liaison to develop a peer-to-peer relationship built upon scientific exchange. For my presentation, the topic is "Collaborating with Key Thought Leaders to Enhance MI Communications" and I will share helpful advice through case presentations on the value that Medical Information teams provide for internal and external KOL stakeholders. Many of us may have key scientific influencers both within our organizations and as external customers. Having a relationship with these individuals that are internal to your organization can allow them to see the value of insights from Medical Information teams through compliant interaction with external audience.
Working with a small biopharma organization, it is my experience that attending medical congresses is one of the key opportunities for interact with external audiences. In partnership with Med Affairs, the Med Info group has worked to diligently "lean in" on opportunities to interact compliantly with thought leaders at Medical Advisory Boards, Medical Affairs Team Global Meetings, Medical Round Tables and field visits with MSLs. These face-to-face opportunities allow for better understanding of how the current data is perceived, seize opportunities to optimize data communication within response document and strategically plan for anticipated data being generated. Having worked as an MSL for several years, I believe that having a customer-facing background provides strategic perspective on the value of medical insights so that internal and external stakeholders can view Medical Information as an additional layer of scientific support available through Medical Affairs. Being physically visible to internal strategy leaders as well as external thought leaders can be a great combination to build the value of Medical Information to the overall medical strategy.
Do you have any actionable tips on collaborating with stakeholders?
Be strategic.

Begin with the result in mind.
Seek opportunities to collaborate internally with relevant stakeholders.

Make a plan. Get it done.

Advocate for yourself.

You may be asked to join an ad hoc discussion/meeting – be vocal when included in discussions. Asking questions or making comments fosters collaboration and reinforces that you are an active participant and not just an attendee.

Be proactive with internal strategy leaders.

Schedule time with internal strategy leaders to highlight how Med Info can be a resource with literature evaluation, access to content, insights on queries, etc. Consider looking for a mentor.

Get out of the cubicle or office.

If attending Medical Congress/Advisory Boards – participate in internal debriefs even if you were not included in the assignment schedule. Everyone is looking for feedback on the relevance of content. You may have a new perspective to offer.

Volunteer for special projects/go extra.

When someone asks if you have a moment to join a conversation around new data join the discussion. Projects may follow.
Sometimes there is a project that you may know nothing about. However, your work may speak for your value when considering best fit.
What are the main takeaways you hope attendees learn from the presentation?
Med Info is reactive to external KOLs, however, it can become a proactive function with key internal stakeholders.
Utilize strengths fundamental to Medical Information, such as data management, literature review, medical writing, customer service, scientific expertise, access to medical insights to leverage Med Info value and visibility within your network.
Consider being a champion for special projects internally.
Be available to work with thought leaders when needed. Scientific exchange can segue to other initiatives and build credibility with thought leaders.
To hear more from Erica Wertz and other Medical Information experts, save your spot for Q1's upcoming Medical Information Conference.
Q1Web Admin
is a Content Marketing Associate for Q1 Productions, where she is responsible for campaign planning, content development and executing marketing projects for the life sciences, pharmaceutical and food and beverage industries.