An Interview with Emilie Labud
Emilie Labud will join Q1 Productions from Zimmer Biomet as a distinguished presenter at the Medical Device Clinical Training and Education Conference in San Diego, CA. The event takes place March 31 – April 1, where several executive-level presenters, participants and sponsor partners will come together for two days of networking and solution sharing. Read on for more about Emilie's background and where she plans to offer her expertise.
Can you please share a description of your job title and background?
My title is Medical Education Manager, CMF, Thoracic, and SAT. I joined Zimmer Biomet in 2010 as a Product Manager for CMF Surgery with no prior medical device experience. After college I was working at a car rental company and the president of Zimmer Biomet (at the time, Biomet Microfixation) was one of my regular customers. He told me about an open product management position and, ultimately, I was fortunate enough to be given the opportunity. I spent 6 years in marketing before transitioning over to managing the Global Medical Education Program.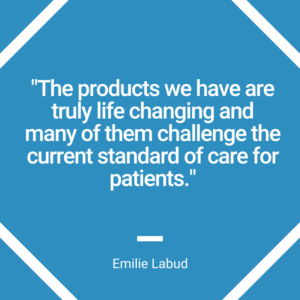 What is your favorite aspect of your role?
The products we have are truly life changing and many of them challenge the current standard of care for patients. Creating opportunities for healthcare professionals to learn about life changing technologies that they can take back to their practices is truly rewarding.
What key talking points do you plan to address during your sessions?
I am a part of the panel discussion: Key Metrics to Consider when Measuring Training Program Success and will facilitate a small group discussion: Targeting HCP Groups to Tailor Training Approaches. During the panel, I plan to discuss the challenges of measuring the educational effectiveness of medical education programs and creative solutions that can be utilized. During the small group breakout, I will be leading the discussion on effective approaches to educating surgeons on new products and procedures utilizing interactive and engaging sessions.
What are you most looking forward to about the event?
I am looking forward to meeting other medical education professionals, learning new ideas and approaches and, hopefully, creating lasting connections in which we can continue to share ideas after the conference.
Join Emilie and other medical device clinical training and education professionals for these sessions and more at the upcoming Medical Device Clinical Training and Education Conference. Reserve your seat today.
Jessica Vallee
is a Content Marketing Associate for Q1 Productions, where she is responsible for campaign planning, content development and executing marketing projects for events in the medical device industry.