Hitting Submission Timelines
Craig Gassman of Vericel Corporation is one of many experts featured at Q1 Productions' 8th Annual Regulatory Operations & Submissions Conference in Philadelphia this June. See below for more about Craig and a preview of his workshop, "Optimization Strategies for Hitting Submission Timelines."
Can you please give a brief description of your job title and what that entails?
I'm currently the Director of Regulatory Operations at Vericel Corporation based out of Cambridge, MA. Being at a smaller organization allows me to manage a few different yet related areas for the company. These include regulatory content management, day-to-day submission planning and execution, regulatory system infrastructure, vendor management, and adjacent system oversight (outside of Regulatory). I'm currently working on strategies to align key cross-functional groups with tools and processes that allow for more transparent collaboration. Additionally, I've been working alongside IT to optimize system change control procedures for cloud-based GxP systems.
Can you give a quick summary of the presentation?
The "Optimization Strategies for Hitting Submission Timelines" will be delivered in a workshop-style setting. As regulatory professionals, we're at the whim of overall business and regulatory objectives planned by our organizations. This means our experience with different types of products, regulatory applications, submission types, and health authority interactions is completely determined by what our companies plan and ultimately execute. Unfortunately, this means we have very little control when we want regulatory experience outside of our current orbit. This potentially hinders professional growth over long periods of time. Thankfully, networking with colleagues from all across the industry, especially at more intimate events like the Regulatory Operations & Submissions Conference, allows us to collectively learn from our culminative experience. The aim is to get attendees discussing – better yet, reliving – previous involvement with major submission filings. Participants will be gathered into subgroups and move around the room to discuss best practices, pitfalls, strategies, and related elements specific to timeline optimization for major submissions. Discussions will include the role of submission project management, tools and systems, regulatory content management, resourcing, soft skills, and other strategies to meet filing timelines. It's a great opportunity to meet new peers and discuss how Regulatory Operations manages business critical objectives when viewed by company size, therapeutic area, department setup, roles and responsibilities, and various technologies. The ultimate goal is for attendees to leave with some novel and actionable steps to integrate into their current operating model, all while making new connections. Too often participants can slip into a passive approach to learning at conferences – the workshop aims to transform the learning experience into an interactive activity. The topic itself has been designed to spur discussion from all attendees, most having experienced at least one major regulatory filing.
Do you have any actionable tips for hitting submission timelines?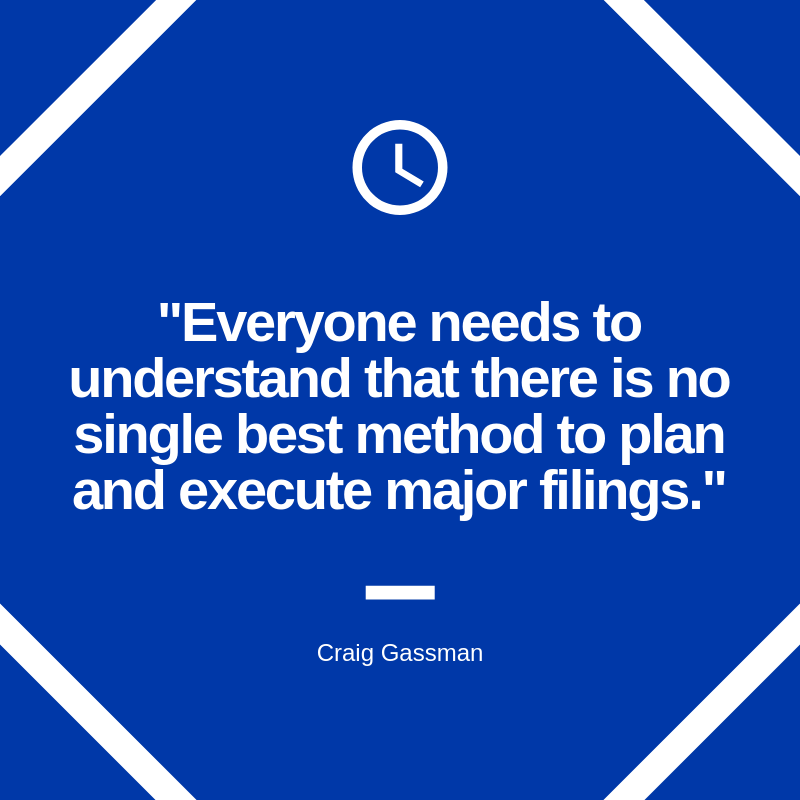 As they say in real estate – location, location, location. In our world, it's planning, planning, planning! Planning out reasonable timelines. Clearly defining roles and responsibilities. Investing in the right-fit systems and tools. Understanding that flexible resourcing is a critical element in the new age of Regulatory Operations. Knowing when, and how, to leverage (and manage) vendors. Each major filing is filled with unique nuances – it's understanding that you'll encounter and then have to triage these variables throughout the process. Start early, get management onboard, and leverage critically important 'soft skills' such as negotiation, managing-up, and emotional intelligence. Brute-force methods may have been the bread and butter 15-20 years ago. In reality, the game has changed significantly.

What are 1-3 main takeaways you hope attendees learn from the presentation?
Of critical importance, everyone needs to understand that there is no single best method to plan and execute major filings. As we all need to be flexible in our approach, learning from others is absolutely key. Take the time to meet new people during this session – sometimes it's hard to be outgoing at these types of events, but try and open up! Some of the best guidance – be it submission strategies, systems and tools, even career advice – has been received at similar Q1 conferences. This session is meant to foster knowledge-share while meeting new life-long colleagues.
Reserve your spot today for the Regulatory Operations & Submissions Conference to participate in the workshop.
Q1Web Admin
is a Content Marketing Associate for Q1 Productions, where she is responsible for campaign planning, content development and executing marketing projects for the life sciences, pharmaceutical and food and beverage industries.