Building a Quality Management Strategy
Melissa Finocchio, Director at bioMérieux, is a featured speaker presenting at the Q1 Productions 4th Annual EU Medical Device & Diagnostic Quality Management Conference. The event will take place December 4-5 in Frankfurt, DE where various quality professionals will discuss current challenges and trends the industry is facing. Read on to learn more about Finocchio, her background and her presentation.
Can you please give a brief description of your job title and what that entails?
I am the Senior Director for Global Quality, Business and Support Functions at bioMérieux. As such, I am part of the quality board for our company representing all of the functions that do not fall under the development, manufacturing or supply chain activities. This includes human resources, purchasing, marketing, information systems, global customer service, and finance. I help to ensure that these functions maintain the Quality Management System for their area, that they are monitoring their performance and am there to help them resolve any quality related issues that they may encounter. I also manage a team of senior quality experts who are deployed into key projects or crisis situations and finally, I act as the secretary of the quality board, managing the agenda, action items and reporting.
Can you give a quick summary of your presentation: Optimizing Efficiency & Compliance by Establishing a Global Quality Management Strategy?
The goal of my presentation is to share some guidelines and strategies for addressing the complexity of regional and local requirements in a Global Quality Management System. I have more than 19 years of experience in dealing with a company where this complexity is inherent; we serve 160 countries through 43 different sites and subsidiaries with a diverse range of products. It is often difficult to find a balance between the need for standardization, harmonization and local customization. Drawing from my personal experience, I will share some ideas on how to simplify the Quality Management System to meet global goals, diverse regulations, while still maintaining compliance and efficiency for those who need to execute the day to day activities. Through personal anecdotes, I will share some of the challenges, the possible solutions and some of the risks that are coming in the future as the regulations continue to evolve. Many of the subjects in my paper "Developing and Maintaining a Quality Management System for IVDs" will be covered. (That paper can be downloaded, at no charge, here: http://www.bsigroup.com/en-GB/our-services/medical-device-services/BSI-Medical-Devices-Whitepapers/)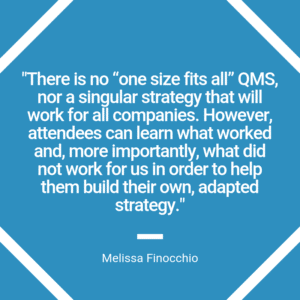 What do you hope participants will learn from your presentation?
My hope is that each participant learns something slightly different from my presentation. There is no "one size fits all" QMS, nor a singular strategy that will work for all companies. However, attendees can learn what worked and, more importantly, what did not work for us in order to help them build their own, adapted strategy. I firmly believe that we can learn from one another's experiences even though our context is unique.
Why do you think it's important that quality assurance professionals attend the EU MD & Dx Quality Management Conference?
Quality is a never ending journey with a continuous set of new challenges in the world of MD and IVD. The Q1 conferences are a great mix of presentations and networking, with a manageable conference size that allows us to truly share experiences, understanding and challenges in a way that allows us all to improve. The more we can take these opportunities to discuss, the more we can improve our own companies, with the real winners being patients everywhere.
Join Finocchio and other quality professionals at the EU Medical Device & Diagnostic Quality Management Conference in Frankfurt. Reserve your spot today to participate in her session and the rest that will span over the two-day program this December.
Jessica Vallee
is a Content Marketing Associate for Q1 Productions, where she is responsible for campaign planning, content development and executing marketing projects for the life sciences, pharmaceutical and food and beverage industries.