Applying AI and Machine Learning in MedTech
The Q1 Productions 7th Annual Medical Device Product Management Conference takes place November 5-6 in Chicago, IL. Medical device product management professionals will industry join peers and distinguished presenters from other medical device companies including Dave Saunders, of Galen Robotics for dynamic sessions and networking opportunities. Keep reading for more about Saunders, his background and what attendees can expect from his session.
Can you please give a brief description of your background, job title and what that entails?
I have almost 30 years of background in Internet-based information systems. Having worked with a wide range of hardware and software product development, I look at the MedTech industry as an opportunity to modernize the types of information and services available to practitioners and patients through integrated information collection, guidance and training. As Co-Founder and CTO of Galen Robotics, I've had the pleasure of applying the vision to the field of surgical robotics and computer interventional surgery in conjunction with ongoing research at Johns Hopkins University by bringing together robotics, big data and machine learning to bring new options to the fingertips of surgeons around the world.
Can you give a quick summary of your presentation, "The Evolution of Regulatory Standards to Address AI and Machine Learning Based Medical Devices"?
In this talk, we'll cover the basics of Artificial Intelligence and Machine Learning, how they're being applied in MedTech, how to identify opportunities to apply these technologies in your medical device roadmap and what changes are coming from the FDA to accommodate the regulatory challenges presented by the use of these software technologies.
What are a few examples of new regulatory requirements for AI products you plan to cover?
The FDA is in the process of establishing risk-based guidelines for the regulation of approved AI/ML found in medical devices. We'll be covering what these are, what they mean and how to navigate them to leverage the "low hanging fruit" when it comes to applying these technologies in the near and long term.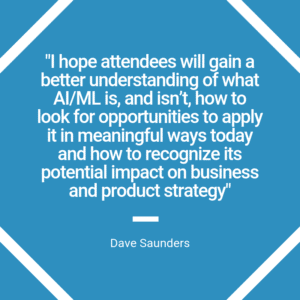 What are a few main takeaways you hope attendees will learn from your session?
From this session, I hope attendees will gain a better understanding of what AI/ML is, and isn't, how to look for opportunities to apply it in meaningful ways today and how to recognize its potential impact on business and product strategy in the years to come.
Don't miss Saunders' session and plenty other engaging conversations at the Medical Device Product Management Conference.
Jessica Vallee
is a Content Marketing Associate for Q1 Productions, where she is responsible for campaign planning, content development and executing marketing projects for the life sciences, pharmaceutical and food and beverage industries.