An Interview With Donna Carlson
Donna Carlson, Principal Software Quality Engineer at Medtronic (Louisville, Colorado), is a featured speaker presenting at the inaugural Medical Device Software Engineering Conference. The event takes place on February 25-26 in San Diego, CA, where several industry peers, regulatory experts and outside perspectives will come together for two days of networking and knowledge share. Read on for more about Carlson's dynamic background and what she will speak to during the event.
Can you please share a description of your job title and what that entails?
As a Principal Software Quality Engineer at Medtronic, I am responsible for supporting the software development and manufacturing of medical devices in conformance with the Quality System Regulation, ISO 13485, IEC 62304, ISO 14971, FDA 21 CFR 820, FDA 21 CFR 820.30, MDD, EU and other regulatory standards. In this role, there is a need to ensure the internal Design Control policies and procedures comply with regulations and external standards, including software regulations, design controls, risk management, cybersecurity, change control, and production. As a project resource, my leadership skills are applied in developing and identifying Risk Management Plans and Reports, Risk Assessments including Software Hazard Analyses, Fault Tree Analysis/FMEAs (Software, Design, Use, and Process), Acceptance Criteria for Design Verification and Validation, Software Reliability Analyses, Post Market Surveillance, Cybersecurity Assessment/Evaluation, and Ensure Project Completion of Documentation for the DHF deliverables. All these deliverables must meet the compliance and guidance with all applicable regulatory requirements and the company's policies and procedures.
From various companies, I have obtained an extensive experience in Software Engineering, including Software Development Life Cycle, Medical Device Quality, and Project Management. With this unique background, the opportunity existed for me to teach/implement/coach Scrum as a Scrum Professional and have been involved with Scrum for more than a decade, with mentoring relationships from various Scrum leaders. As a leader in the industry, I authored the Scrum Alliance's CSM/CSPO certification exams. In addition, I manage the Onboarding Program for new hires as chairperson for the Medtronic Women's Network, as well as the Mentoring Program involving 160+ participants, allowing networking opportunities and career growth.
What is your favorite aspect of your role?
My favorite aspect in my current role is how I contribute to the streamlining and continuous improvement of the software development and maintenance process, to ensure robust and efficient development and to launch new and innovative medical device products. Another important aspect that I enjoy is building relationships with all levels of leadership within Quality, Regulatory, R&D, Operations, Manufacturing, Marketing, Post Market Surveillance and Technical Services to create software medical devices and maintain legacy products. These products provide a positive impact treating two individuals per second to alleviate pain, restore health and extend life.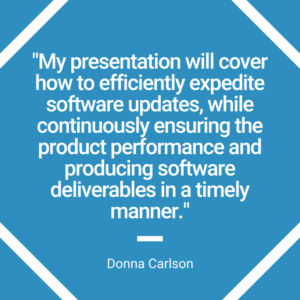 What key talking points are you planning to discuss during your sessions at the program?
My presentation will cover how to efficiently expedite software updates, while continuously ensuring the product performance and producing software deliverables in a timely manner. This would include how to identify the most time-consuming tasks with Agile methodologies (Scrum, Kanban, Scaled Agile, etc.), how to shift towards time-efficient practices using Scrum and how to expedite testing with automated testing. With a variety of approaches to implement Agile methodologies into medical devices, it is important to remember the following items: improve current practices, optimize workflows, ensure continuous monitoring of medical device performance, improve automation efforts and address risk mitigation, while integrating the ongoing changes to compliance and regulatory requirements. The topics of discussion will take all this variability and show strategies to develop software in medical device products that still meet quality standards and regulatory compliance in a seemingly flawless manner.
Why do you think it's valuable for software engineers to attend the event?
The Q1 Productions Medical Device Software Engineering Conference would be relevant and applicable to those developing software (software engineers) for medical devices, as well as professionals who work with software engineering teams on regulatory compliance. The participants will hear presentations with specific insight and tailored knowledge from medical device professionals providing best practices, real world medical devices situations and valuable lessons learned. Small group workshops will provide collaborative discussions with peers, practical case studies, strategies and professional networking. There will be networking opportunities and exploration of topics and strategies focused on improving software development and testing practices, as well as automation efforts and risk mitigations throughout the lifecycle of the device.
Hear more from Donna Carlson and other industry experts at the Medical Device Software Engineering Conference in San Diego, CA. Reserve your seat at the event today.
Jessica Vallee
is a Content Marketing Associate for Q1 Productions, where she is responsible for campaign planning, content development and executing marketing projects for events within the medical device and diagnostic industries.