Speaker Interview with Colleen Tully: Post-Covid Technological Innovation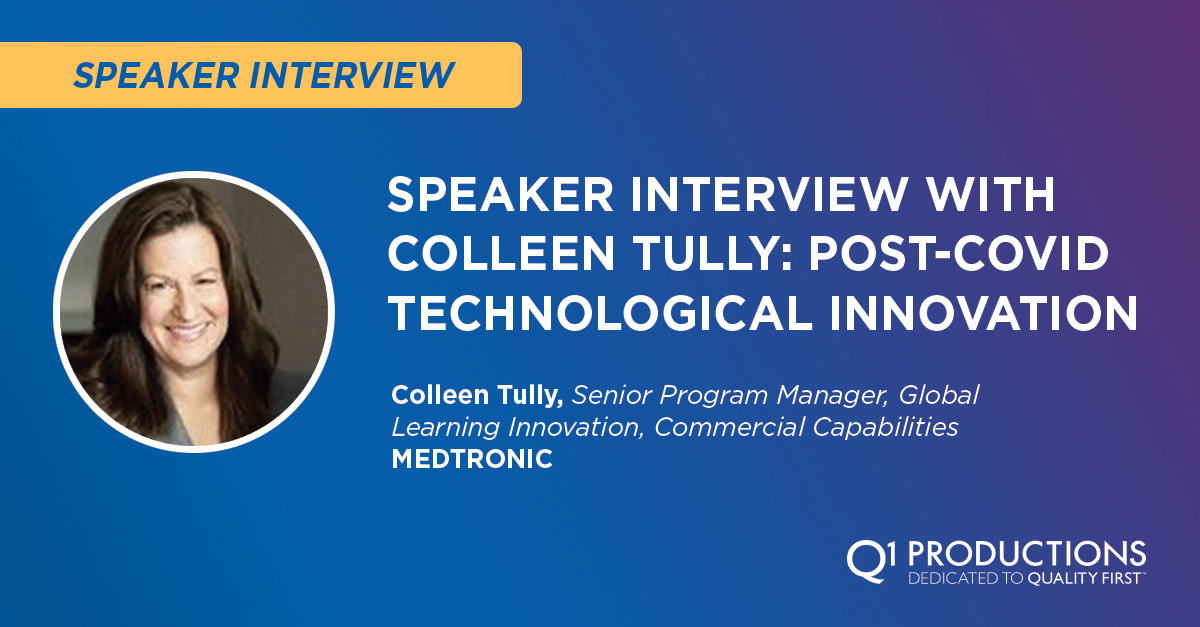 It is no secret that the pandemic has forced some rapid changes in both how technology is used and the limits technology can reach. The industry has seen the quick advancement of at-home wearable technology to aid in healthcare, to the refinement in telehealth, to the wide-spread embrace of technology in favor of face to face communications. To paraphrase Plato: Necessity is the mother of invention. In the following interview, Colleen Tully of Medtronic will discuss the innovative new technologies she has seen come to be during the pandemic and what that means to the life science industry.
Interview with Colleen Tully, Senior Program Manager, Global Learning Innovation, Commercial Capabilities, Medtronic
Interviewed by: Jaycey Ells, Conference Program Manager, Q1 Productions
Hi Colleen. Thank you so much for chatting with me today. Can you tell me a bit about yourself and your role at Medtronic?
First, thank you for this opportunity to share some of my thoughts relating to what excites me most these days – making innovation happen. Briefly, a little about myself – I have 20 years of experience as a technology professional in mobile and web application development, startup strategy, and new technology initiatives. My focus has always been on creating intentional and useful experiences. In my role at Medtronic, I'm tasked with transforming learning by pioneering innovative technologies. That means I get to research and pilot new tech with the goal of increasing our sales reps' knowledge retention and confidence, all while ensuring safe and effective use of our medical devices. It's a fantastic company and an exciting place to be.
You are known for having a focus on innovative technology. Can you tell me how you think technology is changing the life science landscape from your perspective?
We all know that healthcare needs to become more "efficient, accessible, and equitable1" across the globe. This pandemic has brought that to light even more. Technology, when used smartly, provides a path to accomplish these goals. At Medtronic we like to say that we "Put the Tech into Medtech".
What do you think the future of technology use will be in the life science industry?
Personalized medicine seems to be the next big thing, and using tools like artificial intelligence, XR, connected tech, and big data with predictive modeling will get us there.
When it comes to learning technologies – where my concentration lies – we see some of these same platforms advancing the way we learn and retain knowledge.
The pandemic accelerated the use and general acceptance of these types of tech and that really helped adventurous learning professionals speed up the new tech adoption curve. Doing things virtually, whether it be relationship or team building, selling or training, is something that we will not see recede.
Our teams at Medtronic work hard to understand the training gaps our stakeholders face to make sure we use the correct solutions, not the coolest. Admittedly though…we are working on some pretty cool things right now . Things like AI-backed role play scenarios, VR product and procedural training suites, and holographic telepresence to further enhance learner retention in our blended curriculums. We always make sure to combine these new platforms and technologies with tested teaching/ learning approaches such as coaching, gamification and learning in the flow.
So, all that said, I think the future of technology use in the life sciences is happening now.
That's awesome. You also mentioned holographic telepresence-I want to hear a little bit about that because it sounds so sci-fi.
I know, right?! It's exciting – we're merging a couple of technologies. We're working with a vendor (PORTL) to use their holoportation devices to beam 4K life-sized holographic experiences to our students around the globe. Some of the use cases involve KOLs, Customers, SME, Leaders and global training managers beaming into training centers and classrooms to have real-time telepresence sessions or (with another vendor called StoryFile) pre-recorded AI-backed role play experiences.
I love it. It is so cool. We do have just a couple minutes left. So I want to touch on this last question about your presentation. Q1's 16th Semi-Annual Clinical Training & Education Conference as well as Q1's 16th Semi-Annual Medical Device & Diagnostic Sales Training & Development Conference about innovative learning technologies being used by Medtronic training communities. Can you tell us more?
My presentation is a Use Case Study entitled LEVERAGING ADVANCES IN TECHNOLOGY IN AI & VR FOR ENHANCED REMOTE LEARNING and I'll discuss the importance of experiential learning and how using hands-on technologies like the ones I will demo, offer solutions to an array of real-world issues we face, such as:
Supply chain limited access to devices for global -hands-on training

In-person training and COVID travel restrictions

Multi-language training opportunities

Force-multiplication of subject matter experts
I strongly believe, and have seen first-hand, that using innovative tools organically creates new ways of thinking for our training teams and our sales reps. I'll touch on this as well. I'm excited to see who else is there and learn from others. Whenever I go to conferences, I come back totally energized because someone's doing something I've never thought about – always. I'm excited to attend and be part of that community. I want to get the next big idea!
Footnotes:
*Edited for clarity