Joseph G. Pinto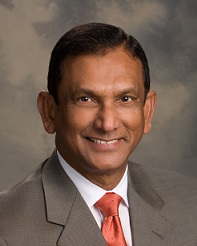 Executive Vice President & Chief Operating Officer
Performance Review Institute (PRI)
Joe started his career at Sherwin Williams Company and joined PPG in 1987 as Manager of their Ontario, Canada, coatings plant. In 1991, he moved to Tokyo, Japan, to serve as Director, Business Development. In the Asia-Pacific region, he went on to hold a series of leadership assignments in Jakarta, Indonesia; Hong Kong, Tianjin and Shanghai, China; and Melbourne, Australia.  His last assignment in the region was Managing Director for Coatings Asia-Pacific. He returned to the United States in 2005 as Global Director of Operations for Performance Coatings, a position he held until his retirement from PPG in 2010. In August 2010, Joe assumed the role of Executive Vice President and Chief Operating Officer of the Performance Review Institute (PRI). He came to PRI with an impressive industrial career and broad global experience. He has a demonstrated track record of successfully leading complex organizations and achieving strategic growth objectives. Joe received his Bachelor of Science Degree in Mechanical Engineering from the University of Sri Lanka and his Master of Science Degree in Industrial Engineering from Purdue University. PRI administers the Nadcap Program which audits and accredits special process suppliers to the global aerospace industry.
Joe will be one of the distinguished speakers at the 3rd Annual Medical Device Supplier Quality Conference.
Why is the 3rd Annual Medical Device Supplier Quality Conference important for quality executives?
Attendance at 3rd Annual Medical Device Supplier Quality Conference will give quality executives the chance to learn first-hand about the latest efforts being made by the medical device industry to address the current challenges in supplier oversight. It will be a privilege to be able to share with attendees the latest updates on MedAccred, an innovative new approach to supplier oversight which the industry is currently developing.
What initiatives are on the horizon for your team in 2016?
2016 is going to be a milestone year in terms of MedAccred's development. The program has established itself in 6 critical process areas (PCBAs, Cable & Wire Harnesses, Heat Treating, Sterilization, Plastics and Welding) and numerous companies are now stepping forward to participate in the audit process and gain accreditation.
The program's technical Task Groups will be producing additional audit criteria to complement the 16 which have already been released.  The audit criteria are developed collaboratively and align the requirements of many of the largest OEM and Contract Manufacturers such as Johnson & Johnson, Philips HealthTech and Stryker among more than 30 other companies who are actively involved in MedAccred.
Since MedAccred was established, the MedAccred Management Council (MMC) has pro-actively sought to keep the FDA updated on the program's development. Briefings have been held with the Center for Devices and Radiological Health's (CDRH) Office of Compliance and the FDA's Office of Global Operations within the Office of the Commissioner. The FDA gave positive feedback and strong encouragement to pursue the development of the program. In 2016 the MMC will provide significant updates to the FDA on MedAccred and will be starting to engage with other global regulatory bodies as appropriate.
In what ways have you made collaboration with suppliers a reality?
Collaboration is at the heart of the MedAccred program. By definition, as an industry-managed program, MedAccred is run by the subscribing OEMs and contract manufacturers through the Management Council and also suppliers who are actively encouraged to participate at every level of the program. MedAccred Management Council and technical Task Group meetings see suppliers sitting alongside their customers, contributing to the development of the audit criteria and the overall direction of the program's development. For any supplier, a key benefit of involvement in MedAccred is the unique exposure to existing and new customers which in the long term undoubtedly strengthens relationships and creates new opportunities.
What are some successful projects you have implemented to simplify supplier quality?
The whole MedAccred initiative is an exercise in both simplifying and strengthening supplier quality. For many years suppliers have been feeling the impact of oversight from each of their individual customers. Customer audits appear in their schedules frequently and in many cases they address similar requirements. These audits can be redundant, costly and time consuming for both the customer and the supplier. MedAccred offers a unique solution which over time will reduce many of the customer specific audits. Working together, the industry is agreeing on a common set of best practice requirements through the development of critical process audit criteria. Along with their quality system audit one rigorous critical process audit per year can satisfy multiple customers who subscribe to MedAccred. This new supply chain oversight process is without doubt a simplified approach to improved supplier quality.
How do you see supplier quality evolving over the next 5-10 years?
As MedAccred continues to grow and more and more companies participate the overall standard of medical device quality will improve. MedAccred will become part of the fabric of medical device supplier quality across all tiers of the supply chain. From the customer perspective OEMs and contract manufacturers can be assured that their critical process supply chain is being regularly and comprehensively audited. Through this process suppliers will improve their operations and product quality while reducing the number of on-site customer audits saving them both time and money. Most importantly by improving overall product quality this new approach will also improve patient safety.