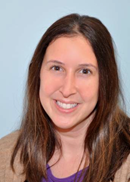 Gina Scott
Senior Risk Manager, Global Pharma Procurement
GENENTECH
Gina joined Roche/Genentech in 2007 and has held positions of increasing responsibility. She began her career at Roche/Genentech in research and development contracts by negotiating clinical research agreements and participating in various initiatives to decrease contract turn around times.  She then transitioned to Functional Manager of Research and Development Contracts and has held roles such as Site Master Coordinator and Research Templates Coordinator. In 2013, she joined Strategy Realization and Operations Leadership Team in Global Pharma Procurement as Chief of Staff.  In this role, she established the operating model and helped develop strategies, processes, and communications in support of SR&O and the GPP community. She went on to assume the role of Senior Global Risk Manager for Technical Operations Procurement.  This role focuses on ensuring continuity of supply by assessing suppliers and working with them to build resiliency.
Gina will be one of the distinguished speakers at the Pharmaceutical Procurement and Strategic Sourcing Conference.
Why do you believe that the Pharmaceutical Procurement & Strategic Sourcing  Conference is important for procurement and sourcing executives?
It is essential that we build a community and share best practices. In a time when there is a need for procurement professionals to be more efficient and do more with less, cross pollination strengthens the community and  drives innovation. It also helps to provide attendees with a comprehensive understanding of supplier relationships which are key to our profession.
What do you hope attendees will take away from your presentation or panel discussion?
I hope that attendees walk away with a better understanding of all of the elements that are key to a comprehensive risk assessment. My desire is also to leave attendees with a well-rounded view of supplier collaboration, which is essential to a successful risk program.
What trends in procurement and sourcing do you see arising as global cost restrictions increase?
Because procurement professionals will have to do more with less, I see them having to stretch and hone their skill set. I see procurement professionals needing to challenge their business partners and lead them in discussions around sourcing. This necessitates accurate forecasting and supplier selection. Procurement professionals will have to be agile and aware of all of the areas having an effect on sourcing. Supplier relationships and risk sharing become increasingly important as we work with them to innovate and optimize efficiency.
How have you and your team developed successful risk-shared partnerships?
There is early procurement involvement and routine meetings to set and manage expectations.
What is your greatest accomplishment in your current role?
Being somewhat new to my current role, I have been assessing our risk strategy to ensure it is forward looking and sustainable. Establishing open and trusting relationships with suppliers is something I feel strongly about. I am proud to have created an environment where risk is addressed as a joint partnership.