Frank Siepmann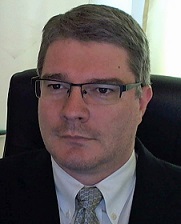 Former Interim Director, Cybersecurity
University of Washington Medical Center
Frank Siepmann is an experienced Cyber Security professional adept at planning, implementing and leading enterprise level cyber security programs within globally operating organizations. He is known for decisiveness and creative approaches to addressing security risks. Frank is respected for sound judgment, astute business sense and teamwork. He is the author of "Managing Risk and Security in Outsourcing IT Services" published by CRC, December 2013 and is a regular presenter at conferences.
Frank will be one of the distinguished speakers at the Medical Device Cybersecurity Risk Mitigation Conference.
Why is the Medical Device Cybersecurity Risk Mitigation Conference important to medical device security and manufacturing teams?
It is a conference that helps bringing the various stakeholders together to understand the problematic of Medical Device security better.
How has medical device cybersecurity evolved in the last several years?
Manufactures of medical devices have started to acknowledge the problem of ongoing Cyber Security with their devices. However we are still at a point that Medical Devices are easy targets.
How do you see medical device cybersecurity evolving over the next 5-10 years?
Medical Devices, as well as IoT devices and vehicle cyber security will have to mature. I expect more oversight by regulations and laws, requiring device manufactures to develop ongoing cyber security support for their devices.
Why is this conference important to you as an industry leader?
As always when defining the right path to better cyber security a dialog is required. The conference is a great place to have these conversations.
If you had to describe medical device cybersecurity in one word, what would it be?
Target-rich 😉
What are the "key takeaways" for your presentation/panel discussion?
Device cyber security requires a joined effort of all stake holders to be successful.