Speaker Interview: Maya Uddin and Jolene Hernandez
Maya Uddin, currently a Technical Innovator at W.L. Gore, is one of the featured presenters speaking at the upcoming EU MDR: Quality System Alignment Conference taking place December 4-5 in Chicago, IL. She will be presenting with her colleague, Jolene Hernandez, Divisional Quality and Process Engineer, on Managing New Qualifications and Regulations on MDR Hazardous Materials throughout the Supply Chain. Read on for more about the session and their perspectives.
Can you give us a description of your background, job title and what that entails? 
Maya Uddin
My background is in Biomedical Engineering. Prior to W.L. Gore & Associates, my roles have been in healthcare software and product development/design of orthopedic and spine devices. I joined Gore as a Supplier Quality Engineer and served as a bridge to connect our internal teams with our external suppliers. This role encompasses many day-to-day responsibilities working within the Quality System to assess supplier changes, specification changes, inspection methods and raw material supply. Another component to this role is focused on improving categories of materials in terms of how suppliers are selected and assessed. My last divisional project focused on improving the way we formatted our component specifications used to communicate with suppliers.
Jolene Hernandez 
My role is a Divisional Quality (QE) & Process Engineer (PE) with W. L. Gore & Associates Medical Product Division. I received my bachelor's degree in Chemical Engineering from Arizona State University and joined W. L. Gore & Associates in 2015. Previously, I have been in New Product Development and Commercial Manufacturing Support as a PE. During these two roles some of my work included Process Design, Design Control, Process Validation, Test Method Development, Standard Operating Procedures and Risk Management activities. I now support high priority divisional technical projects. My current work has been focused on regulatory compliance to the MDR for technical documentation (Annex II) and GSPR (Annex I) requirements.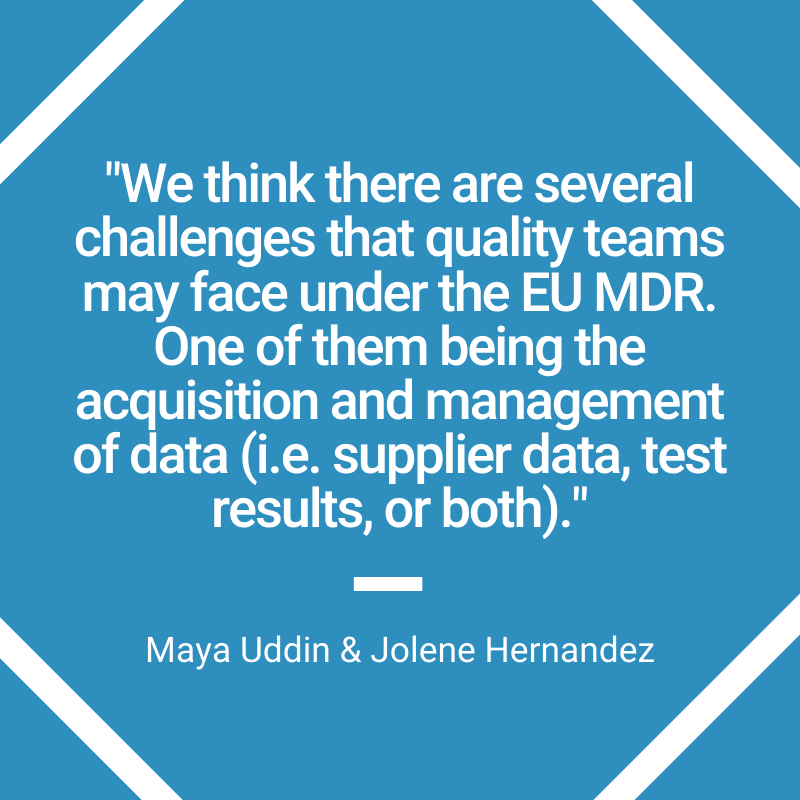 What do you think is the biggest challenge quality teams face under the EU MDR?
We think there are several challenges that quality teams may face under the EU MDR. One of them being the acquisition and management of data (i.e. supplier data, test results, or both) especially for large and complex medical devices and especially if there is any change in classification of the device. Other challenges include finding resources to take on the workload and coping with the ever changing external environment (i.e. Brexit, UDAMED, Chemical List changes/up-classifications, etc.) in conjunction with developing process improvements and continuing business productivity. One way that we think can help quality teams face these challenges is educating associates in the business that are impacted and raising awareness, accountability and ownership of the changes and deliverables.
Do you have any tips for teams justifying the use of Hazardous Substances to a notified body? 
If teams need to justify the use of Hazardous Substances to a notified body, make sure to align justification with SHEER guidance, which contains a risk versus benefits analysis, as well as with ISO 14971 and ISO 10993. What teams will need to focus on is proving that the benefits of using Hazardous Substances outweigh the risks. Keep in mind that having data and analysis is looked upon more favorably than having a standalone rationale. It is also important to think about how having Hazardous Substances over the threshold impacts existing biocompatibility evaluations and toxicological assessments.
Why do you think it's important for quality professionals to attend the EU MDR: Quality System Alignment Conference?
We think one of the important reasons for quality professionals to attend the EU MDR: Quality System Alignment Conference is for awareness at the individual level as well as gaining knowledge and education to bring back to their teams that may have not been able to attend the conference. In addition, networking and making connections to resources for specific questions between companies may be a great benefit to attending. At conferences like these, there is built in time and flexibility to bounce around ideas on how other companies are addressing and handling the new regulations in a way that may be better or more efficient. The conference gives the space and opportunity to hear from real companies with real experiences through the case studies, panel sessions, and live Q&A. We hope that everyone can take away something new from this conference!
Take part in this dynamic session and several others at the EU MDR: Quality System Alignment Conference. Reserve your seat today.
Jessica Vallee
is a Content Marketing Associate for Q1 Productions, where she is responsible for campaign planning, content development and executing marketing projects for the life sciences, pharmaceutical and food and beverage industries.