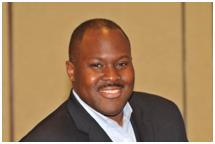 Cecil Johnson
Director, Management Development
Johnson & Johnson
Cecil has spent his career in sales, management and learning & development.  He is currently Director, Management Development for the North America Pharmaceutical Companies of Johnson & Johnson (Janssen).
Under his direction, his team has developed a new Management Development Curriculum for emerging people leaders, new and tenured District Managers and Business Directors.  An example of his vision and creativity are innovative programs such as: the Janssen Business Challenge, a cross-organization, project-based, action-learning program for high performing Region Business Directors.  The outcome is a solution to a current, urgent, organization-wide business problem; as well as a competency stretching experience for top talent.
Cecil is a Magna Cum Laude graduate from Hampton University with a Bachelor of Science in Business Management. He is currently pursuing his Masters in Organizational Dynamics from the University of Pennsylvania.
Why is sales training important?
Management Development and Sales Training are critical partners in identifying, prioritizing and improving organizational capabilities to reach business goals.

Describe a sales training initiative you will be focusing on in 2014.
Learning Transfer and Sustainability

Please finish these sentences:
Sales training is… vital.
Our sales trainers are….business people first.
Our sales force is….competitive, competent and CREDO focused.
If I could change one thing about sales training, it would be…to have a voice in the room vs. a seat at the table.

What are you most looking forward to regarding the 4th Annual Pharmaceutical Sales Training & Development Conference?
Interacting with and learning from my colleagues.
Cecil will be one of the distinguished presenters at the 4th Annual Pharmaceutical Sales Training and Development Conference.