Bob Taylor
AVP Supply Chain
UAB Health System
How many years have you been in the industry?
Twenty five.
Why do you believe that the Medical Device & Diagnostic Sales Training & Development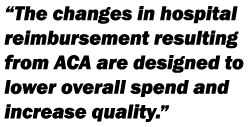 Conference is important?
The changes in hospital reimbursement resulting from ACA are designed to lower overall spend and increase quality.  This is a major shift from the past where the primary driver has been success through more is better to better is more.
What do you hope attendees will take away from your presentation, workshop or panel discussion?
An understanding of the shift that is taking within hospitals related to product selection, who is involved in that process, and the criteria that are used to make that selection.
What inspires your passion and/or interest for sales training and/or healthcare?
It is an industry that is focused on improving the welfare and life of people.

Bob will be one of the distinguished presenters at the 5th Annual Device and Diagnostic Sales Training and Development Conference