FTC Social Media Regulations
Questions about social media influencers and dietary supplement claims? Clarifications on FTC regulations covering the disclosure of material connection, substantiation and liability are essential for dietary supplement manufacturers utilizing online promotions.
Diana Morgan, M.S, is the Head of Scientific and Regulatory Affairs at Care/of, a personalized vitamins and supplements delivery company known for social media campaigns and influencer endorsements. Learn about her views on FTC enforcement action, deceptive claims and more below.
Can you please describe your job function and responsibilities? How did you get to this point in your career?
As Head of Scientific & Regulatory Affairs for Care/of, I am a core member of a dynamic startup and serve many roles. I am heavily involved in almost every aspect of the business. I play a key role in new product innovation, guiding the business on regulatory pathways, strategic claim positioning, safety and regulatory intelligence. I also lead the claims process from ideation to substantiation to approval and partner with marketing to ensure communications positively impact the consumer, while also being truthful and not misleading and supported by competent and reliable evidence. In addition to physical product responsibilities, I analyze regulations and guidance documents to provide comments to the Agency and monitor the political landscape to determine industry impact.
I truly love the supplement/functional food industry, and my entire professional career has been working with dietary supplements with roles in technical services, product development, regulatory and even sales!
What are the FTC's rules for social media influencers and testimonials in the dietary supplement industry?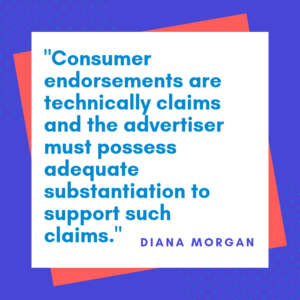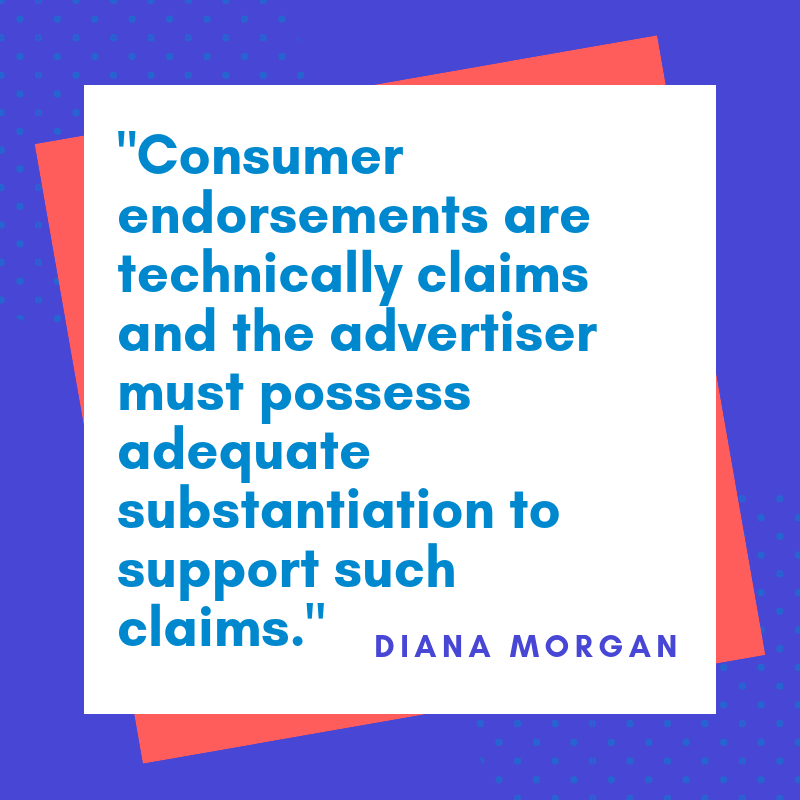 The FTC published Guides Concerning the Use of Endorsements and Testimonials in Advertising (16 CFR part 255) that should be regarded as the general principles for all social media influencers and testimonials. As a guiding rule, endorsements must reflect the honest opinions, findings, beliefs or experiences of the endorser. Consumer endorsements are technically claims and the advertiser must possess adequate substantiation to support such claims. Additionally, if "actual consumer" endorsements are presented in the advertisement then real consumers should be used in both audio and video.
Disclosing material connections is crucial for influencers! The FTC states that when a material connection, such as monetary payment or discounted products, exists between the endorser and the seller, the connection must be fully disclosed.
Overall, advertising must be truthful and not deceptive, and the advertiser must have evidence to back up their claims. Advertisers and endorsers are subject to liability for false or unsubstantiated claims made in an endorsement or for failing to disclose material connections.
How do you navigate the consequences and challenges of promoting dietary supplements on social media channels?
Since new issues are arising every day, an important part for navigating the regulatory landscape on social media is monitoring enforcement action. I try to stay up to date on areas that enforcers are focusing on and educate marketers on such issues. Recently it has been on a lack of material disclosures. Last year, the FTC sent out more than 90 letters reminding influencers and marketers to clearly and conspicuously disclose their material connection.
What is one thing you hope attendees walk away from your presentation knowing?
Disclose, disclose, disclose! The biggest sticking point is that endorsers of a brand's product need to disclose their material connection and what constitutes a "material connection" in the eyes of the FTC.
What's your current go-to dietary supplement?
I love adaptogenic herbs, and rhodiola is my personal favorite! Being a busy mom of two young children, I need support for my hectic days and to help manage my energy. Rhodiola has a rich traditional history in both Siberian culture and Traditional Chinese Medicine.
Navigate the social media regulatory landscape and benchmark with peers at the Dietary Supplement: Regulatory Strategy Conference. View the full program agenda today for more on Diana Morgan's presentation and other dietary supplement industry topics covered.
Q1Web Admin
is a Content Marketing Associate for Q1 Productions, where she is responsible for campaign planning, content development and executing marketing projects for the life sciences, pharmaceutical and food and beverage industries.