4th Annual Sports Fan Engagement Conference: Speaker Interview
Scott Kegley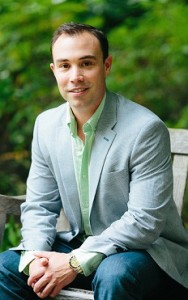 Executive Director, Digital Media & Innovation
Minnesota Vikings
Scott Kegley is in his second season with the Minnesota Vikings. As the Executive Director, Digital & Innovation, Kegley oversees all aspects of digital media, social media, mobile strategy and online content. Under Kegley's leadership, the team has created several innovative campaigns such as Vinekings and The V.I.G. (Vikings Instagram Group). With a unique approach to digital storytelling, the Vikings consistently rank in the top quartile in content consumption amongst NFL teams. The Vikings new mobile app has been featured in the "top free sports apps" on iTunes, and is a pillar of the team's digital ticketing and fan experience initiatives at U.S. Bank Stadium. Prior to joining the Vikings, Kegley spent nine seasons with the San Francisco 49ers as the head of their social and digital team. A three-time Webby Award Honoree, Kegley was named to Brand Innovator's 40 Under 40 West in 2015. He's originally from Sacramento, California and graduated from the University of Southern California.
Scott will be one of the distinguished speakers at the 4th Annual Sports Fan Engagement Conference.
Why is the 4th Annual Sports Fan Engagement Conference important for marketing & digital teams?
This will be my second time attending Q1, and I've really enjoyed being able to hear perspectives from my peers from various sports teams/groups. The topics covered are very relevant to our various roles and we're always able to gain valuable insights.
What is one thing you hope to learn or discuss with your peers at the conference?
I'm most eager to discuss the direction the industry is going in general. Things are always moving at a lightning pace, but it's great to get takes on how other teams are utilizing emerging technologies and setting up their teams for sustained success with regards to the technology roadmap.
What fan engagement initiatives are on the horizon for your team in 2017?
Heading into our second season at U.S. Bank Stadium, we'll be able to continue a lot of the momentum we've had from year one. We're also looking to expand on some of the various social media programs we've started this last season. I don't want to give away too much here, but we have plenty of things already in the works for our fans in 2017.
How do you see the in-stadium fan experience evolving over the next 5 years?
Our goal will always be to combine the home viewing experience with the live experience. We've taken that approach with our Vikings app, combining in-venue feature like replays, ticketing, mobile ordering with content and our Vikings Rewards loyalty program. New technologies will allow us to also provide additional features that create exclusive content for the fans at the stadium.
Is your team using virtual reality? If so, how?
We're currently using VR for coaching purposes, but have also done a lot of 360 video with the GoPro Omni. Each game, we take a 360 video of the atmosphere and post that on Facebook. It's also available for various VR headsets.
From a content standpoint, what are fans looking for?
More. They're always looking for more content, more access across more platforms. There are a variety of reasons that fans come to our social or digital platforms, but by casting a wide net with regards to our content, hopefully we're providing enough content in enough places to reach as many of our fans as possible. Hopefully, everyone finds a feature or piece of content they enjoy that keeps them coming back. Maybe that's a vague answer, but I feel like there's a variety of things that our fans our looking for, and it's our job to be in as many places as possible.
Where do you draw inspiration from for your marketing and digital ideas?
While some people may say they draw ideas from the industry, I try not to look at what other teams are doing. There may be an idea you get from a conversation with a fan or a digital peer that elicits a new thought or idea. I try not to put our digital/social team in the box of "what's already been done" and focus on "what's never been done." By focusing on what's already been done in the market, you'll never be able to innovate.
If you could describe your team's fan base in one word, what would it be?
Unified. I think our fans know who they are and what they stand for. While there's been a history of "close but no cigar," our fans stay united, steadfast in their fandom, educated and hoping for greatness.