Customized Business Development Strategies, Reduced Administrative Overhead Among Objectives of Latest Venture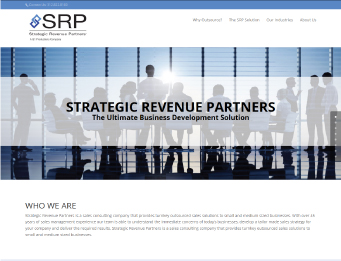 (Chicago, IL) – Q1 Productions, a premier conference production and business development company based in Chicago, has announced the launch of Strategic Revenue Partners (SRP), a sales consulting company that provides turnkey outsourced sales to small and medium sized businesses. SRP offers immediate sales activity and a reduced administrative overhead, ultimately eliminating turnover of sales personnel within a company.
SRP customizes business development strategies that align with its clients' marketing approach while prospecting targeted leads for specific products and services. Companies using SRP's services can expect a team of experienced sales professionals is in place to round out an internal sales team, providing lead generation, increased sales coverage, and more channels for face-to-face client meetings.
"With the costs associated with generating sales revenue and the employee expenses incurred running a full-time sales platform, many of our clients are prohibited from running their business the way they would like. Leveraging our extensive reach and relationships in the life science and healthcare business communities allows us to cover more ground in less time. Ultimately SRP's highly trained and experienced staff will customize its activity to have a significant impact on their revenue line in a more cost effective manner," said Ed Salim, Sales Director of SRP. "So whether it's appointment setting and lead generation for an existing sales group, or direct selling on behalf of the company we can help our clients achieve their goals and more."
SRP works with companies in a variety of industries including: life sciences, finance, healthcare, and energy, providing immediate sales turnaround while reducing lost productivity. With the most top-of-mind concerns of companies including growing costs of personnel, drastic time zone differences, fluctuations in sales needs, and lost productivity due to time off, SRP creates solutions that combat these issues and more.
For more information on Strategic Revenue Partners' business solutions, please visit www.strategicrevenuepartners.com, or call (312) 822-8100.