Component Suppliers, OEMs, and Manufacturing Experts to Discuss Industry's Biggest Challenges this December
(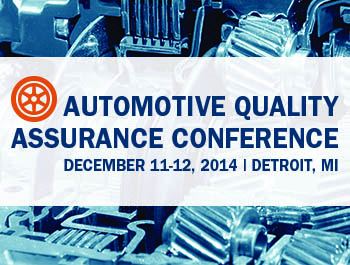 Chicago, Illinois) – Q1 Productions, an industry leader in high-level corporate conferences, webinars and forums, is expanding upon the success of pharmaceutical and medical device supplier quality conferences and forums and delving into the automotive industry. The Automotive Manufacturing Supplier Quality Assurance Conference will take place December 11-12 in Detroit, Michigan, and speakers for nearly two dozen sessions and panels are requested for this unique and innovative conference.
This conference, which will bring together component suppliers, OEMs, and manufacturing experts in order to facilitate exceptional discussion on challenges including AIAG document usage, globalization, internal and external communication of quality expectations, and standardization of quality systems. Attendees will partake in a plethora of sessions on a variety of topics, case studies from leading manufacturers, and small group discussions for in-depth networking and idea sharing.
If you or someone you know is interested in speaking at the Automotive Manufacturing Supplier Quality Assurance Conference, please contact marketing@q1productions.com. You can also follow us on Twitter @Q1Productions, #Q1autoSQA.