John Joseph is the Director of Managed Care Payer Contracts at Electromed. He will be on a panel at the upcoming 14th Annual Medical Device Coverage & Reimbursement Conference on July 11-12 in Chicago, IL. Mr. Joseph is presenting in the panel discussion: "Aligning Healthcare Innovation with Reimbursement Frameworks" which will address success stories and partnerships created between traditional device firms and technology corporations, as well as a glimpse into the future of medical technology reimbursement. Looking to gain insight into his presentation? Read more in the interview below.
Please provide a brief overview of what your day-to-day operations look like in your role?
As the Director of Contracting at Electromed, my accountabilities include all aspects of payor contracting including: compliance, maintaining access to more than 45 individual state Medicaid programs as well as all appropriate Home Medical Equipment and/or Durable Medical Equipment licensing as required by the states. I also conduct financial modeling, negotiations, and strategic planning for growing our payor contracting partnerships. I further design and develop contract rate proposals for both internal and external parties and deal with claims and customer service related issues with our hundreds of payors nationally.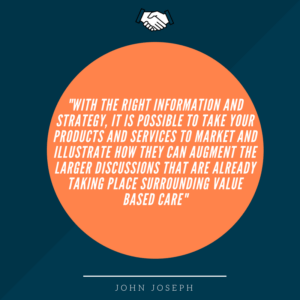 What are some of the initiatives that you see on the horizon as it relates to medical device reimbursement?
In terms of initiatives, everything centers on identifying and connecting your products and services to both patient outcomes and payor (CMS, Medicaid, Commercial, etc.) objectives which are, to a degree, dependent upon their individual markets and competitive forces as well as other gain / risk share and ACO arrangements they may already have in place. The fundamental purpose behind these efforts are threefold —
To gain access to new payors and networks
To drive additional business to your organization by expanding participation in select and high-performance networks
To gain participation in ACO and other performance-based networks and programs to bolster revenues while supporting the case for appropriate levels of reimbursement based upon value
What are some of the areas that excite you about the future of medical device reimbursement?
I see exciting opportunities for device makers and distributors. More specifically, there are opportunities given proper positioning to more effectively and aggressively engage payors that will drive additional contracting opportunities. Knowing how to engage payors and strategically link products and services to their operations is very exciting. Having experience with both payors and providers alike, I am better able to fully understand the drivers behind each of the parties' decision making processes. This, in turn, enables me to speak directly to what matters while eliminating the clutter and miscommunications that can derail negotiations and make it more difficult to reach an agreement that works for all.
At the workshop, what will be some of the key takeaways from your presentation?
In an era of tightening budgets, increasing coverage limitations, decreased government funding, and increasing pressures to deliver value to consumers and payors alike, there are very good reasons to be not only hopeful but optimistic. With the right information and strategy, including an understanding of value-based contracting, it is possible to take your products and services to market and illustrate how they can augment the larger discussions that are already taking place surrounding value based care. As a result, it is possible to not only maintain your current agreements and rates but expand both. It is for these reasons that business owners and leaders in the device industry should attend the conference.
Want to learn more about the future of medical device reimbursement? Join us for the 14th Annual Medical Device Coverage & Reimbursement Conference on July 11-12 in Chicago, IL. For the full program details, download the full program agenda. Avoid late registration fees by reserving your spot before Fri., June 15—click here to register!