Executive Leadership Support Forum: Chicago: Speaker Interview
Lá Shawn J. Sandifer, CAP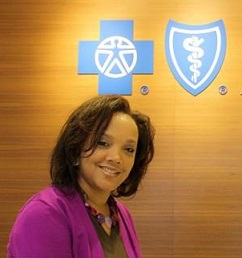 Executive Assistant
Blue Cross Blue Shield Association
Lá Shawn J. Sandifer is the Executive Assistant in the Legal and Governance Division where she partners with the SVP, General Counsel and Corporate Secretary for Blue Cross Blue Shield Association, a national federation of 36 independent, community—based and locally operated Blue Cross and Blue Shield companies. Having a very diverse and eclectic administrative background that spans 25+ years, Lá Shawn brings a wealth of experience and competency to her role at BCBSA by demonstrating leadership among administrative colleagues in functioning as de facto leader in teambuilding, motivating, conflict resolution and collaborating to achieve specific goals. Having joined BCBSA in 2004 as an EA in Corporate Communications and later moving to Legal and Governance in 2009, Lá Shawn experienced firsthand how the demands of the administrative profession have evolved over the years. Staying relevant and on top of her game keeps her motivated. She continuously seeks out learning and development opportunities from various educational forums, including being credentialed as a Certified Administrative Professional (CAP) in 2015 through the International Association of Administrative Professionals (IAAP), where she has been a member since 2009.
Lá Shawn will be one of the distinguished presenters at the Executive Leadership Support Forum: Chicago.
Why is the Executive Leadership Support Forum: Chicago important for executive assistants?
It's important to share our stories with each other, to learn from each other's challenges, successes and failures. We need to connect on that peer-to-peer level and know that we are not alone in our self-imposed silos of experiences. We all have encountered some of the same situations and dealt with them differently; and that's where the learning and revelation comes in. Having a forum for open, transparent dialog of shared experiences and key learning.
Independently, what have you done to work towards professional development in the past?
I joined IAAP years ago to learn, grow, collaborate and connect with my fellow peers. I wanted to stay informed, involved and relevant in this ever-changing profession.
What is one thing you hope to learn or discuss with your peers at the ELS Forum?
I can't pinpoint just one thing as I'm open to just learning. I'd like to encourage my peers to always be confident in themselves and their skills. Never let anyone's opinion of them or their skill level hold them hostage. Where there is lack, seek educational development and training.
Tell us about a career accomplishment of which you're particularly proud.
I'm particularly proud of obtaining my CAP credentials through the International Association of Administrative Professionals. I often heard from colleagues how difficult the exam was and depth of studying required preparing for the exam. It was something that intimidated me for years and I'm not easily intimidated. I started researching on what was required to take the exam and finally got over myself, my fear and committed to doing the work of preparing for the exam. In hindsight, I believe I was finally mentally and career-wise ready to challenge myself for the next level.
In your mind, what is one tool you can't live without or find especially helpful in your position?
The Gregg Reference Manual. Also, a rubber fingertip because I handle a lot of paper. I'm old school.
Looking back, what advice would you give yourself when you were first starting your career?
Don't sweat the small stuff.
Pick and choose your battles carefully and armor up with solid admin weaponry to support your principles.
There will be peaks and valleys in this profession and how you deal with the valleys will build your character.
Are there any blogs, books, articles or online forums you recommend reading?
LinkedIn is truly addictive and challenging to keep up with! It's full of great information, resources and groups for an admin professional to tap into. I'm following blogs from J.T. O'Donnell from WorkItDaily.com, Professional Women, Bonnie Low-Kramen, RedCape, Richard Branson and Arianna Huffington, just to name a few. Social media has a bounty full of information to glean. I subscribe to several groups like IAAP, ASAP, AAOP and EPAA. As for books, I'm reading Lean In by Sheryl Sandberg for business purposes and Hidden Figures by Margot Lee Shetterly for personal.
How do you define success within your role as an executive assistant?
Exceptional EAs are called to deliver on a higher level and are held to a higher standard in job knowledge, skills, and performance. In knowing that, I must arm myself with the necessary tools, knowledge, and training to stay on top of my game and relevant in this ever-changing profession. Being able to develop a trusting partnership with my executive where I can handle things that are not a good use of his time and free him up to focus on more important responsibilities is success. EAs are mere custodians of our positions for a short period of time before we move on to other opportunities. While in my current role, I want to deliver my best and be able to leave behind a strong example of a skilled EA who set the bar high.