An Interview with Markus Ott
Markus Ott from Roche Diagnostics will join Q1 Productions at the 9th Annual EU Medical Device & Diagnostic Reimbursement & Market Access Conference taking place on March 24-25 in Frankfurt, Germany. Several executive-level speakers from the medical device and diagnostic industry as well as perspectives from public health institutes will present on key challenges and industry trends. Read on for Markus' perspective.
Can you please describe your role and what led you to your position?
I am leading the market access & health policy function at the number one company in the IVD space globally. Driving a Value Driven Access model for high value solutions is my passion. Guiding and steering the company through the public jungle to get rewarded to value add solutions is my desire.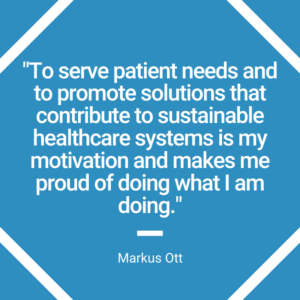 What is your favorite aspect of your work?
To serve patient needs and to promote solutions that contribute to sustainable healthcare systems is my motivation and makes me proud of doing what I am doing.
Why do you think it is important reimbursement professionals attend the program?
Sharing success stories is part of creating the best strategy and to avoid too many iterations. In addition, listening to failure stories as well makes you very effective and lets you shortcut your learning curve to design effective strategies first.
Join Markus and other reimbursement professionals on-site at the EU Medical Device & Diagnostic Reimbursement & Market Access Conference. Reserve your spot today.
Jessica Vallee
is a Content Marketing Associate for Q1 Productions, where she is responsible for campaign planning, content development and executing marketing projects for events in the medical device industry.