This article is Part One of a series focusing on the buying and spending habits of millennials. Stay tuned for weekly updates every Friday
Cost concerns could have detrimental impact on food and restaurant spending in 2016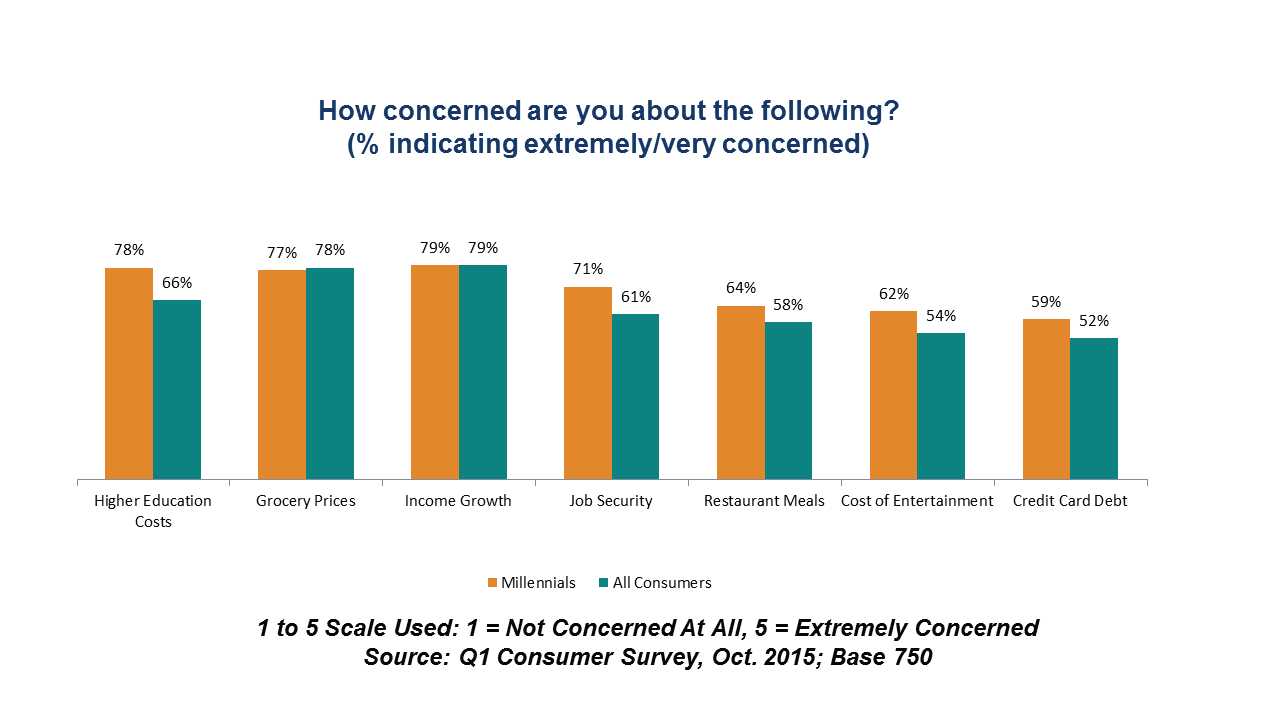 The term "millennial" garners a heavy share of media attention, and with good reason. The size and purchasing power of millennials (those roughly born between 1980 and 1995) are growing, with some forecasts predicting millennials will outspend Baby Boomers by 2017.
In our latest research, we wanted to gauge the level of concern of the coveted millennial group in terms of prices and costs. While Q1's focus is on food and beverage, we nonetheless wanted to see where costs of groceries and restaurants ranked in terms of some other cost areas to provide benchmarks.
Higher education costs, such as paying off loans and simply attending college is one of the primary concerns for millennials. A primary indicator of food spending is discretionary income – or income after all expenses are paid. If this group is paying a high percentage of income on debt payments, it reflects poorly on both restaurant and grocery spending as shown in the chart.
It is important to note that households earning more than $75,000 annually – typically older Gen X and Baby Boomers – account for the majority of restaurant spending, yet millennials are more likely to visit restaurants more frequently. However, as millennials age, the balance of purchasing power will shift to this group, meaning that any spike in menu and retail food costs could sharply decrease traffic and check averages.
A troubling sign, however, is the high level of concern this group has for income growth (and particularly) job security. This group has one of the highest levels of unemployment and therefore job retention is a real fear.
As the economy tries to recover from the Great Recession, it is hoped that the job prospects and income growth for this group so too improves to aid a mature food and beverage industry. In the coming weeks, we will explore the millennial mindset and its impact on the future of food and beverage.
Questions or comments? Contact Tim Powell, Vice President of Consulting, Q1 Food and Beverage Practice.
About the Author
Tim Powell is the VP of  Q1's Food and Beverage Consulting Practice and is  a regular contributor to Convenience Store News.  He has been cited in NACS Magazine, CSP, The Los Angeles Times, The Chicago Tribune, The Columbus Dispatch, Advertising Age, Reuters as well as other local publications.