Industry Benefits from the Growing Adoption of MedAccred
The 10th Annual Medical Device Supplier Quality Assurance Conference will take place April 28-29, 2020 in Arlington, VA. Several supplier quality professionals will participate for engaging discussion about aligning supplier quality agreements with vendor requirements, managing supplier change notifications and more trending topics.
David Vazquez, Director at Becton Dickinson and Management Council Member for MedAccred, will join us as a speaker to offer his executive perspective in multiple topic areas including session: Device Manufacturer & Supplier Comments on the MedAccred Program. Read on for more about David and what he plans to cover.
Can you please describe your background and current role at BD? 
My educational background is in biology, though I have held several different positions throughout my career ranging from QC testing in a molecular biology laboratory to quality engineering for drug-device combination products. Currently, my role is focused on quality engineering and supplier quality for Becton Dickinson, in the corporate quality group.  My team is responsible for identifying best practices and driving strategy, process and tools across the enterprise. Lately we've been focused on integration efforts as a result of two large acquisitions, and building on the synergies made possible from the joining of large organizations.
What is your favorite or most interesting aspect of your work? 
There are many elements of my role that I find interesting and rewarding, including seeing my team grow, develop and accomplish their objectives, as well as the ability to be exposed to the many facets of the various business units and product lines that BD commercializes. The latter is one of the benefits of being in a corporate role as opposed to contributing in a dedicated business-focused role.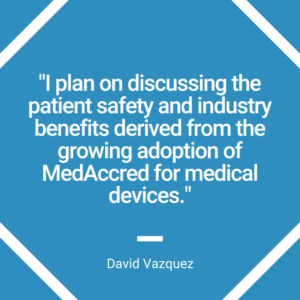 ​What do you hope to discuss during the fireside chat, Device Manufacturer & Supplier Comments on the MedAccred Program? 
I plan on discussing the patient safety and industry benefits derived from the growing adoption of MedAccred for medical devices. The NADCAP program in the Aerospace and Defense industry has led to a significant improvement in product quality in that industry, and as MedAccred is closely modeled on NADCAP we anticipate a similar improvement in our industry. I am also eager to discuss how BD envisions the incorporation of this program into our supplier oversight efforts.
What do you hope attendees take away from this session?
I hope that attendees learn more about the MedAccred program, specifically how it may benefit their organization whether they are suppliers or manufacturers within the industry.
What about the program are you most looking forward to? 
I am most looking forward to learning how other organizations are anticipating benefiting from or using MedAccred in their processes, as well as hearing from the audience and learning what questions they may have regarding the program. In general, I am looking forward to this conference because the agenda is highly relevant to us as suppliers and manufacturers, and will deliver significant value to attendees. It does not appear to be similar to other conferences I have attended where the agenda is geared towards consultants and selling their services, and in contrast this agenda is focused on sharing and addressing common challenges and opportunities that we face.
Meet David and other supplier quality executives during this session and more at the Medical Device Supplier Quality Assurance Conference. Reserve your spot today.
Jessica Vallee
is a Content Marketing Associate for Q1 Productions, where she is responsible for campaign planning, content development and executing marketing projects for events in the medical device industry.