Establishing a Compliant Economic Operator System in Accordance with the MDR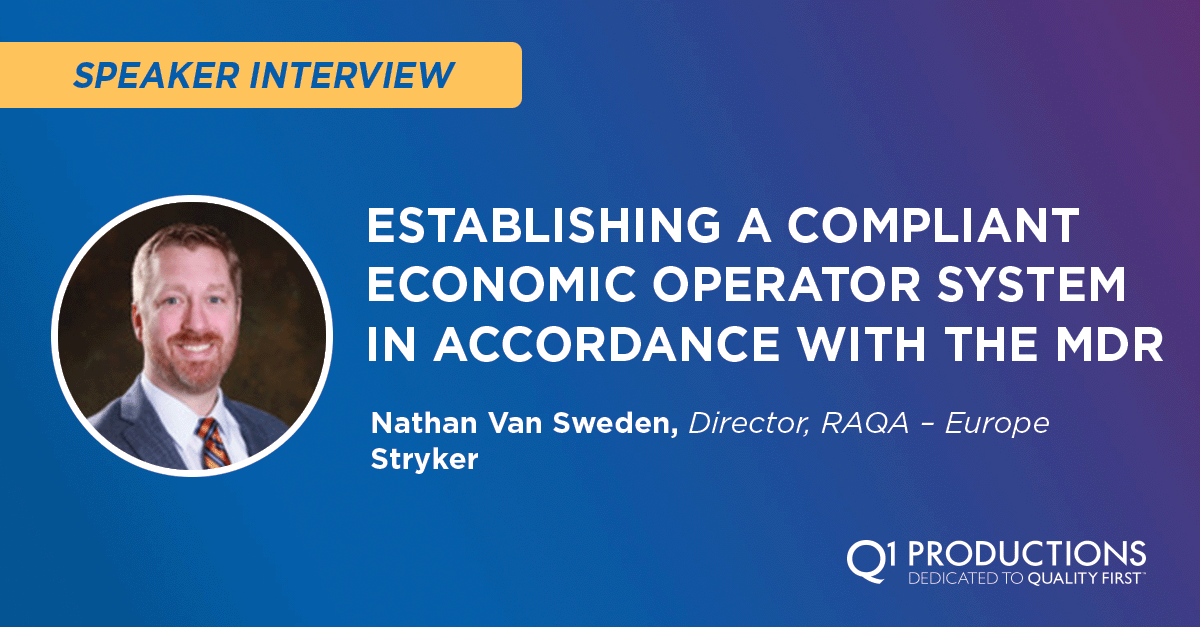 Nathan Van Sweden, Director, RAQA – Europe at Stryker will join Q1 Productions as a distinguished presenter at the 13th Annual EU Medical Device Regulatory Affairs Conference in Brussels, Belgium. The event takes place October 19-20, 2022, where executive-level presenters, participants, and sponsor partners will come together for two days of networking and solution sharing. Read on for more about Nathan's background and how he plans to share his expertise in building a centralized model for economic operator verification obligations.
Nathan Van Sweden is Director, RAQA – Europe with Stryker. He serves as the PRRC (Person Responsible for Regulatory Compliance) for Stryker's European Authorised Representative (EAR).
Nathan's 17 years in regulatory affairs began in the preclinical research space before joining Stryker 8 years ago. During these 17 years, he's served in roles in the US, China, and Europe. Nathan currently resides in Cork, Ireland where he's attached to Stryker's European headquarters.
What have you found most challenging with the updated Economic Operator framework introduced by the EU MDR?
In the early days of our preparation for MDR, one of the most challenging aspects of the new Economic Operator (EO) framework was to establish a clear picture of all the downstream EOs and their respective "spot" in our supply chain. By downstream EOs, I mean our importers, procedure packers, and distributors. Prior to MDR's date of application, we were utilizing multiple EU importers for our products and our trading lanes were numerous and, at times, complex. Establishing which internal entities were going to act as importers and distributors—and being strategic about what obligations were appropriate for the respective EOs—took a lot more time and effort than we expected.
Can you share an unforeseen problem that you are particularly proud of having solved?
I'd point back to the challenges identified when mapping our various trading lanes and the impacted EOs—namely our multiple importers. Since the EO obligations in the MDR carry responsibilities that impact QMSs, we knew we wanted to be strategic in centralizing those obligations where we had the most robust QMS infrastructure. Ultimately, the MDR led us to simplify/reduce our trading lanes and utilize a single importer for products being placed on the EU market. Streamlining our trading lanes and some of the relevant EO obligations benefited us in ways we hadn't originally expected.
What lessons have you taken out of the experience you built with fulfilling Economic Operator requirements?
There have been many lessons, for sure. I'd say that establishing a strong internal EO infrastructure has taught us a lot about implementing compliant solutions while minimizing disruption to product flow. The MDR's EO obligations have the potential to slow product distribution into the EU unless you're deliberate and strategic in how you satisfy those obligations. We were lucky to have an incredibly talented MDR program team focused solely on implementing solutions that didn't impede the business. When it comes to that team and what they built, I suppose another lesson was that significant paradigm shifts (like the EU MDR) require equally significant resource investments. We had to dedicate some of our best and brightest to implementing effective solutions to some novel challenges.
What advice would you give to peers in the industry who are still in the process of establishing a compliant Economic Operator system?
I'd recommend doing a lot of research in preparing your strategy and then having it stress-tested and evaluated by objective collaborators—both inside and outside your organization. When we were establishing our EO models and centralizing some internal EO obligations, we discussed our plans internally across our RAQA network and externally with legal counsel. We drafted internal position papers and leaned on internal stakeholders to point out potential blind spots. All this was done before we even started drafting our SOPs. There's a decent amount of literature out there on EO topics now—from entities like MedTech Europe and then some great pieces by EU MDR experts. These should be helpful in the research phase too. In short, my advice is to do plenty of homework before implementation—especially if a company is looking to centralise internal EO obligations.
Why do you believe the 13th Annual EU Medical Device Regulatory Affairs Conference is important to Regulatory Affairs executives?
The regulatory landscape is constantly evolving, and Europe is seeing as much change as anywhere. The EU MDR obviously gets a lot of airtime right now but the changes brought about by things like Brexit, Swixit, or a host of other local (sometimes inconsistent) decrees create an environment where discussion and collaboration are critical. Conferences like this offer a chance to distill some clarity from the fog. They are great opportunities to gather diverse perspectives across the industry, notified bodies, etc. when considering strategic approaches to challenges.
What do you hope attendees will take away from your session on lessons learned in building a centralized model for economic operator verification obligations?
I hope attendees come away with a clear understanding of what benefits and also what potential pitfalls exist in building a centralized model for EO verification obligations. The model we use works because of the way our organization is built, and this won't be the same for everyone. I hope that my session will give attendees some perspective that will help them determine what's right for their respective organizations. I also hope that they're able to learn from some of the surprises we came upon during our MDR journey.
Join Nathan and other medical device regulatory professionals for dynamic sessions and more at the upcoming EU Medical Device Regulatory Affairs Conference. Reserve your seat today.