Deva Rangarajan
Associate Professor of Marketing
Vlerick Business School

How many years have you been in the industry?
I have been in the executive education business for the past 10 years. I have had the privilege of working with companies both from the MD&D sector as well as other sectors and it is amazing to see how much opportunities there are for learning across business sectors.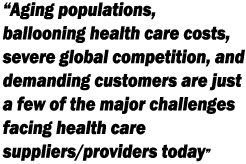 Why do you believe that the Medical Device & Diagnostic Sales Training & Development Conference is important?
Aging populations, ballooning health care costs, severe global competition, and demanding customers are just a few of the major challenges facing health care suppliers/providers today and if these companies do not find ways by which they can compete in this world and gain sustainable competitive advantage, they are likely to face major challenges in being profitable. This conference should shed light on how health care suppliers/providers can leverage their sales force to not just improve the effectiveness of their firms (revenue enhancements) but also do this in a cost-efficient manner.
What do you hope attendees will take away from your presentation, workshop or panel discussion?
In this session, I will present some best practices that I have come across in my teaching experience. Cross industry best practices will also be highlighted here so that participants can look for innovative solutions for their problems.
What inspires your passion and/or interest for sales training and/or healthcare?
In my opinion the business situation in healthcare is changing at such a rapid rate that unless firms invest in equipping their sales force to deal with this change, they are likely to become redundant. Sales people are the agents of change in a company and play a vital role in the success of a firm and so having a chance to work with them and train them is a very fulfilling experience.
Deva will be one of the distinguished presenters at the 5th Annual Device and Diagnostic Sales Training and Development Conference.