Creating Label Transparency and Consumer Trust
Deb Arcoleo, Director of Product Transparency for The Hershey Company, is presenting a case study at the Q1 Productions Food Labeling: Evolving Regulatory Compliance Workshop Intensive in Chicago. The case study, "Future of Food & Beverage Labeling: Expanding the Utilization of SmartLabel®," will cover solutions and best practices from early adopters of the Trading Partner Alliance's SmartLabel® Transparency Initiative. Read below for a preview on some topics Arcoleo will address.
Can you please share more about your role and responsibilities as the Director, Product Transparency at The Hershey Company?
About half of my role is focused on the SmartLabel® program, both within Hershey and nationally. Internally, I oversee the daily work to publish new landing pages as we update packaging and products and launch new items. We are also working with our IS team to plan for future enhancements to SmartLabel® to add more data attributes and links to the pages. Externally, I am on the SmartLabel® Core Team at GMA, and I also co-lead the SmartLabel® Implementation and Adoption Share Group. I take every opportunity to speak publicly and advocate for transparency in the food and beverage industry as we feel it is critical for building consumer trust in our food ecosystem. The rest of my role is focused on other activities to bring information to our consumers about our products, ingredients and practices. For example, in 2017 we did a pilot of Sourcemap, which is accessible on our corporate web site and provides information on the geographic origins of some of our key ingredients and information on agricultural practices. We have produced two videos in the past few years on how two key ingredients, peanuts and almonds, are grown and harvested. I also partner very closely with our communications, responsible sourcing and corporate social responsibility teams on story-telling.
Why is label transparency currently so important to consumers? How does that factor into the lab processes and decisions you make at The Hershey Company?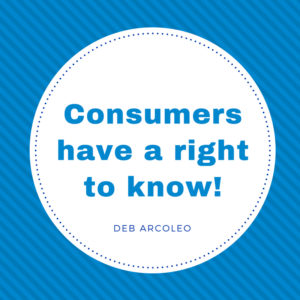 Label transparency has always been important to consumers, but in recent years it has escalated substantially (and it will continue). Besides information on basic nutrition and health, consumers now want to know much more about allergen exposure, sources of ingredients, third party certifications and the practices with which ingredients are raised and harvested. Beyond information about the product, consumers, particularly younger ones, want information about the company and its ethics, policies and procedures around sourcing. At Hershey, we really think of transparency and product development as separate activities. We will always develop and launch snacks in response to what our consumers tell us they want, whether it's a healthy snack like KRAVE Jerky or a more indulgent treat like REESE'S Peanut Butter Cups. We have ongoing work to make our products with more simple and familiar ingredients when consumers tell us that's what they want for that brand. Separately, transparency is about sharing everything about a product, regardless of its stage of evolution. I think it's disingenuous for companies to only be transparent about the "healthier" or "cleaner" parts of their product portfolios. Consumers have a right to know!
What's on the horizon for new requirements surrounding the Nutrition Facts Label and The Trading Partner Alliance's SmartLabel® Transparency Initiative?
Most food and beverage companies began the work to update packaging for the new Nutrition Facts Panel a few years ago, as the original deadline for compliance was July 2018. So the SmartLabel® program developed an updated design guide for the Nutrition tab of a SmartLabel® landing page to match the new law's requirements. The practice for all participating companies is to update the SmartLabel® landing page Nutrition tab at the time that packaging is updated for label reform so that they are consistent. At Hershey, we already have hundreds of products and SmartLabel® landing pages using the new Nutrition Facts Panel format.
What are some areas that excite you about the future of the food and beverage labeling industry?
I think SmartLabel® is just the beginning of exploring how digital technology can be used to deliver more information and value to consumers as they make purchase decisions. Eventually a new technology will scale that will replace QR codes on packages, something like digital watermarking. I think technologies like blockchain have tremendous application in the food business, both to inform shoppers of the origins of specific food items and to help farmers and retailers manage food safety recalls with far less waste. I think the whole transparency movement is one of those rare instances where consumers, manufacturers and governmental regulators have aligned interests in making sure accurate, reliable and comprehensive information is easily accessible to consumers.
What's your favorite snack food? Favorite Hershey product?
I really love multigrain tortilla chips and any kind of cheese!  My new favorite from Hershey is our HERSHEY'S GOLD bar!
Deb Arcoleo held innovation positions with Pfizer Consumer Healthcare, J&J Consumer Group of Companies and Campbell Soup Company, as well as founded an organization effectiveness and change management consulting firm. She also spent over ten years in the management consulting industry, some of that time being at McKinsey & Company. Additionally, Arcoleo ran Hershey's Innovation Center of Excellence to enable innovation throughout the enterprise.
If you're looking for additional insights into the SmartLabel® initiative make sure to register for the Food Labeling: Evolving Regulatory Compliance Workshop Intensive today. To learn more about Deb Arcoleo, the SmartLabel® initiative and other key program topics download the full agenda.
Q1Web Admin
is a Content Marketing Associate for Q1 Productions, where she is responsible for campaign planning, content development and executing marketing projects for the life sciences, pharmaceutical and food and beverage industries.