Managing Changing Global CMC Filing Strategies
​Melissa Mertzman a distinguished presenter at Q1's 5th Annual Global Regulatory Affairs CMC Conference this October with ample experience in global filing control strategies. Learn more about her expertise and responsibilities below.
Can you please describe your job title and what your position entails?
I'm the Director of New Modalities in the Dossier Development Organization (DDO, a CMC writing group) of Janssen Research & Development, LLC. This group is responsible for overseeing the authoring, review and approval of Janssen's pharmaceutical CMC regulatory filings, predominantly during the pre-approval phase of development.
I wear a few different hats in this role. First and foremost, I sit on the DDO senior leadership team, which is responsible for setting the strategy and focus for a group of approximately 40 globally positioned CMC writers. Within DDO, I have my own group of direct reports and oversee a mixture of drug, biologic and combination product filings, with a high focus on emerging modalities, such as cell and gene therapies.
In addition to these primary functions, I fulfill three more specialized roles. I serve as DDO's single point of contact for China, working very closely with our China and global regulatory leads, as well as functional SMEs, to understand emerging China requirements and advocate the alignment of those requirements with global ICH standards. In addition to this role, I co-lead an initiative designed to optimize how Janssen CMC gathers, analyzes, disseminates and acts on global regulatory intelligence, as well as how we proactively partner cross-organizationally to advocate in the global regulatory landscape. Lastly, I oversee Janssen's health authority question analysis process, which analyzes health authority questions received for recent marketing applications and makes decisions regarding changes necessary to ensure the success of future submissions, including changes to the level of detail filed or the scientific design of development-enabling experiments.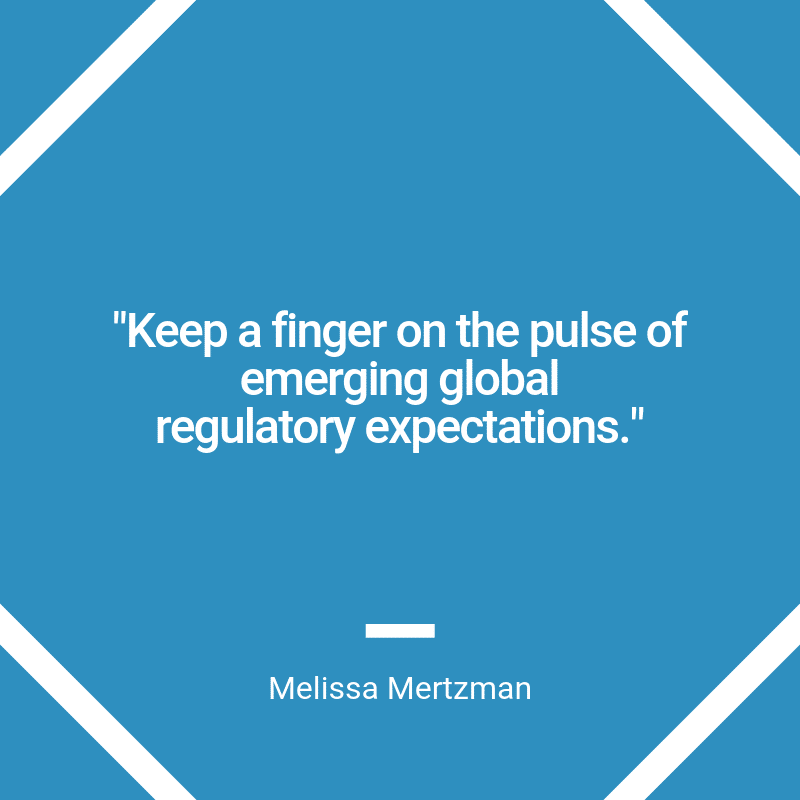 How can Regulatory Affairs CMC experts manage changing global filing control strategies?
You really need to keep a finger on the pulse of emerging global regulatory expectations. One key aspect is having a holistic understanding of the health authority questions your company, and others if possible, have received. CMC experts need to be able to differentiate between true changes in expectations, versus the one-off preferences of a single reviewer.
In addition, CMC experts need to stay connected to emerging global regulatory intelligence. One trend observed in the past several years is that when pharma streamlined its workforce after the 2008 recession, it cut back many of its CMC regulatory intelligence functions. This resulted in a pharmaceutical culture that is more reactive than proactive when it comes to identifying these changes, understanding them, creating effective strategies and advocating for positive change.
CMC experts also need to develop good relationships and information systems with their local operating companies (LOCs). We often depend greatly on LOCs to help us navigate global requirements, so having a strong relationship and systems to support that information exchange is paramount.
Lastly, RA CMC experts need to develop close and open communication with scientific SMEs. This helps both the proactive communication and discussion of development requirements and helps RA CMC experts understand what is practical when partnering together to establish this important strategy.
Do you have any tips for navigating the current regulatory landscape in China?
Don't blink – it's changing quite rapidly! In all seriousness, we have seen that the China of today is much different than the China of even last year, and the changes continue to emerge quickly. The approach I've taken at Janssen is to form an internal working group dedicated to China and supported by cross-functional experts. In addition to me, the team includes a China RA representative (in our case an internal employee but it can be external, such as an LOC representative), a global RA representative, a drug representative, a biologic representative, a quality representative, a commercial representative and a clinical supply chain representative. We meet every other week and look toward emerging intelligence, defining Janssen's strategy to China requirements and developing/executing an advocacy plan that enables us to play an active role in shaping the China requirements of tomorrow. We also closely monitor the experiences of our China filings across the portfolio to course correct as needed.
Why do you believe regulatory affairs professionals should attend this event?
The Q1 Global Pharmaceutical Regulatory Affairs CMC Conference is one of the few CMC-focused regulatory events offered in the Tristate area. It's critical for CMC experts to be able to come together to share and learn from each other's experiences. Whenever I am able to attend, the content presented has proven valuable to my day-to-day role.
To hear from Melissa Mertzman on managing global filing control strategies in China, save your spot for the upcoming Global CMC Conference today.
Q1Web Admin
is a Content Marketing Associate for Q1 Productions, where she is responsible for campaign planning, content development and executing marketing projects for the life sciences, pharmaceutical and food and beverage industries.