Learn How Chobani is Leading the Way with Clean Labels
An Interview With Robert Post
Consumers are more conscious of what goes into their food and how it's made than ever before. This is driven by their values. To meet today's consumer needs, to be viable in the market-place, food manufacturers that succeed are those using a shared-values approach, focusing on transparency and responsiveness. Maintaining trust and earning consumer confidence in your product means formulating that results in what has been termed "clean labels." Cleans labels apply to products that contain only natural ingredients and no artificial or synthetic flavors, sweeteners, or preservatives. Many companies have transitioned to using clean labels and a few, like Chobani, have always made their foods this way.
Not only does Chobani use natural ingredients, they believe that every food maker has a responsibility to provide people with better options. They were at the forefront of labeling transparency when they started a decade ago and can be seen as an example for professionals working in food labeling.
To help us better understand Chobani's approach to clean labeling, we talked to Dr. Robert Post, the Senior Director of the Chobani Nutrition Center and Regulatory Affairs. With over 30 years of industry experience, he is an expert on food labeling. Robert will be presenting on clean labeling initiatives and their impact on consumers at the 5th Annual Food Labeling conference. To get a peak in to his presentation, read more below.
How would you explain a clean label to a customer that may not be well versed in the initiative? 
How we make our product matters.  Local sourcing.  Authentic straining.  Natural ingredients like real fruit and natural sweeteners — it's a thoughtful process that ensures we never use artificial preservatives, sweeteners or flavors.  And responsible manufacturing.  All are important values-based elements that contribute to clean labels for us and our consumers, customers, and communities.
Did Chobani always incorporate clean labels? If not, when did they adopt the initiative?
Chobani, the #1 Greek Yogurt brand and 2nd overall Yogurt manufacturer, was founded on the belief to provide better food for more people. Our founder, just about a decade ago, believed everyone deserves better options, so he set about making delicious, nutritious, natural and accessible Greek yogurt right here in the U.S.  Right from the start that meant only natural, non-GMO ingredients for every product we make.
What are some best practices for advertising clean labels? How do customers perceive it?
We know that a cup of yogurt won't change the world, but how we craft it might.  That's the basis for the transparency that guides what we say about our products in the marketplace.  Our consumers and communities have come to expect our concern for the growing connection between what you eat, what you do, and how you feel. That's why what we say about our products is meant to inform and inspire people to place health and wellness at the center of their lives.
How do Chobani's labels differ from other industry leaders?
Different than most companies, Chobani has used a "recipe for better" since day one; we've been committed to using only natural, non-GMO ingredients in all of our products, and assuring more people have access to healthy and nutritious food choices.  Our product labels, which we just refreshed, have an emotive new look that aligns with this amazing nutrient-dense food — a design that's friendlier, accessible and bolder.
What do you think the food industry will look like in 5 or 10 years from a regulatory and labeling stand point?
Consumers are looking for food-focused wellness brands like ours.  Understanding and recognizing consumer and customer values in labeling is key; that's what is now driving the marketplace. Regulatory requirements for labeling will have to catch up, such as FDA adopting USDA's decades-old definition of "natural", which we subscribe to, and bringing the meaning of "healthy" in line with the Dietary Guidelines for Americans where healthy means foods, like Greek Yogurt, that promote healthy eating patterns.  We hope it takes less than 5 years to accomplish these things.
What do you think companies should focus on during the evolving landscape?
Understanding what consumers are demanding and responding with delicious, nutritious, natural, and accessible food that applies values-based labeling is essential in today's marketplace.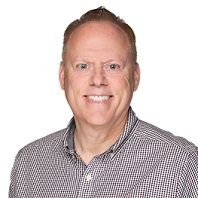 Dr. Robert C. Post is the Senior Director, Chobani Nutrition Center/Corporate Affairs, at CHOBANI, the leading yogurt manufacturer. He drives nutrition, health, and wellness strategies around the brand's current and future offerings, and navigates critical H&W issues toward the goal of improving community health through access to better food for more people.