Fluency of Thought and Flexibility of Action: The Assistant's Guide to Developing a Plan C
When Scheduling
Fluency of Thought and Flexibility of Action: The Assistant's Guide to Developing a Plan C
When Scheduling
Executive assistants are business game changers, always making the impossible possible for their executive. When organizing solutions for leading assistants' top challenges, we turn to celebrity assistant, Patrick Healy. Healy has 13 years' experience as a veteran assistant and has supported several spotlight figures, including actresses Anna Deavere Smith and Olympia Dukakis. He is currently the President of New York Celebrity Assistants and will be a distinguished speaker at the Executive Leadership Support Forum: New York City, June 28-29, 2017.
Scheduling entails much more than organizing meetings. To Patrick Healy, scheduling means having a visual strategy in place for where and when meetings take place, meeting timeframes, and appointment relationships. Anticipation is key when it comes to preparing a visual strategy during scheduling.
The Scenario
"There is a finesse and a technique to scheduling," Patrick articulates, "Don't just think it through, but think it through all the way." The first step to mastering scheduling is being mindful of where a meeting will take place. Patrick shares a specific example of the importance of meeting location:
With any Principal, it's vital to know how they are getting places. If they work or live downtown and are going to Midtown for an appointment or to meet someone, it's probably prudent to have two or three meetings scheduled in that section of the city so they would only have to travel to Midtown once. Perhaps they want to knock out all of their appointments in that part of the city in one day. I know this is a very specific New York City scenario, but it's applicable to any city. If my Principal was in LA, I can guarantee that they wouldn't want to sit in traffic all day, traveling all over the city in between appointments, unless there was no other option. Overall, I think it's crucial to build a scheduling strategy around where the Principal is going.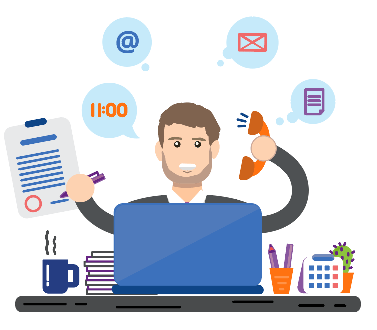 Patrick is a visual person, so he tries to visualize exactly what his Principal's day will look like from the moment they wake up to the moment they rest. How much time will it take them to get to where they are going? What's the best mode of transportation by which they should travel? Have they had lunch? If not, is there a restaurant or coffee shop they can duck into for a quick bite while they go from meeting to meeting? What's the weather like outside that day? Do they need to be reminded to take an umbrella?
I've had bosses who have called to ask where the nearest coffee shop is in relation to where they are at that moment. I needed to have an answer, and quick. Fortunately, I already had anticipated that they might ask so I had some places in mind nearby (or I do a quick Google search while I'm on the line with them). It's also key to anticipate things like knowing where the entrance to the building lies. Especially in New York, the address may say the building is on Madison Avenue when the entrance is actually around the corner on 55th Street. Having that plan in place is crucial to your success.
Advice from the Pro
In addition to being mindful of where meetings take place, Patrick iterates the importance of anticipating if the meeting will go over or under the allotted time. If it goes over, he explains, it is crucial to immediately delay the next meeting and/or have prepared a quicker way to get your principal to that next meeting. On the same plane of thought, Patrick suggests the same planning needs to be considered if a meeting goes under the allotted time.
It's a hard thing to anticipate when you're not in the meeting with your Principal whether it will go long or be brief. Having everything you need at your fingertips to adjust their schedule accordingly is key. Hence my favorite phrase, 'flexibility of action'. Being ready to be flexible.
Patrick advises to also be aware of overlap, especially if meetings are scheduled back-to-back. Ensure you are aware of the relationships each of the meetings have with one another. Patrick asks,
Does your Principal want their 2 o'clock to see their 3 o'clock? Or do they not want their appointments to interact? What if they're in hair and makeup and you haven't scheduled enough time and the crew arrives for a shoot and they are still in the chair? Anticipate what's going to happen in their day. Know who their meeting is with and what that meeting's relationship is with the other surrounding meetings. Not only is this information beneficial to your employer – it ensconces you as a vital employee by the way you maneuver through these relationships.
Through Patrick's experience, he notes that organization of overlap differs drastically between an office setting and appointments conducted in a person's home.
As someone who has worked both in a corporate environment and in a personal home setting, I find that when working in an office environment, it is easier to ensure overlap unwinds more flawlessly with the comfort of multiple conference rooms. When managing meetings at a Principal's home, it proves more difficult since usually they will host in only one or two areas of their home where they conduct most of their meetings. In those cases, it is even more crucial to prepare for overlaps and how you will handle them if they occur.
Last but certainly not least, it is crucial to know each of your Principal's appointments: details about each person they are meeting with, and the role that person plays in the scope of your executive's life. "If you don't know the relationship your boss has with each person they interact with, you lose your value to your employer. If your boss asks you, 'who am I about to meet with?' You need to have an answer. You are their right hand person. You never want your boss to walk into a meeting cold."
Technology to the Rescue
Always good in a pinch if they can't find a cab/car where they are or more specifically if you need to order a car for them in a pinch.
I love using Google Street View. Again, I'm a visual person so I get great satisfaction from using this. I can actually see what my Principal is going to see. I can tell them if the house they are going to has a blue front door or not. Or that the entrance to the building is obscured by a tree. Or knowing that the rental car place in Tokyo is actually an outdoor kiosk. I use it for everything – even when they travel internationally. I can get my bearings on their path from the hotel to their meetings, etc.
My favorite weather app. It's very accurate, tells you not only temperature but wind speed and direction, humidity levels and even the UV index. The best feature is that it tells you when any precipitation is going end or begin or even how far away it is from you. You can set it for any city or it can use your GPS to have it tell you the forecast where you are at that moment.
Ultimately, anticipation is once again key. By implementing best practices, tips and advice, managing calendars will become a strategic and fun component of your everyday.
Patrick Healy will be speaking on a panel at the Executive Leadership Support Forum: New York City on Inside the Professional Life of New York Celebrity Assistants, and will shed light on experiences, lessons learned, and similarities and differences from the corporate executive assistant role. For more information on how the Executive Leadership Support Forums can provide you the professional development to succeed within your career, visit: www.q1productions.com/execsupport
To hear Patrick Healy's insight on managing travel, visit his last installment, Fluency of Thought and Flexibility of Action: The Assistant's Guide to Developing a Plan C During Travel.