 Semi-Annual Healthcare Revenue Cycle Management Forum: Chicago
March 7-8, 2019 | Chicago, IL
JW Marriott Chicago
WE GUARANTEE 100% PRIVACY, YOUR INFORMATION WILL NOT BE SHARED
Curious what a Q1 Productions Forum looks like?
Here are highlights from the 2018 Forums hosted in Philadelphia. Special thanks to Infinix for putting this together.
About the Forum:
Revenue cycles within Hospitals and Health Systems throughout the country are facing considerable uncertainty related to incoming payer, patient and government reimbursement, resulting in a need to create efficiencies in care delivery which optimize coding, communication with payers, as well as patient payment expectations. In order to reduce denials, shorten account receivables and create a level of incoming revenue stability, revenue cycle executives look towards internal efficiency as well as the integration of technology and analysis of data to streamline operating procedures.
Topics Being Addressed Include:
Best Practices in Healthcare Revenue Cycle Optimization
Preventative Measures to Reduce & Manage Denials
Reduction in Account Receivable Timelines
Impact of Evolving Reimbursement on Revenue Cycle
Improved Revenue Performance through Payer Relations
Patient Engagement in Receivables & Revenue Stability
Technology & Automation of Revenue Cycle Management
Leadership Excellence & Efficiency in Revenue Cycles
Program Highlights:
Format Focuses on Small Group, Executive Dialogue
Restricted Number of Didactic Presentations
Pre-scheduled Networking Meetings with Suppliers


15 Speakers
all from US-based non-profit and commercial hospitals and healthcare systems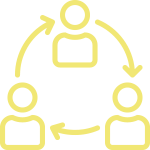 Networking time build into the agenda to allow industry peers to connect and exchange ideas.

Open Dialogue and Group Share

Boardroom discussions are designed to maximize peer to peer learning and knowledge share.