3rd Semi-Annual Medical Device Sterilization Conference Review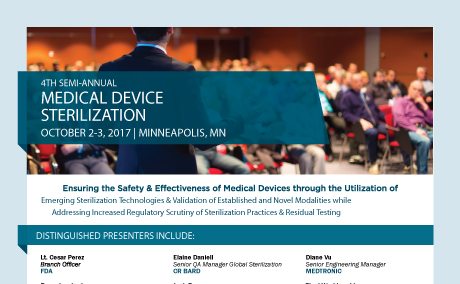 The Q1 Productions 3rd & 4th Semi-Annual Medical Device Sterilization Conferences will provide executives with an opportunity for open dialogue surrounding the increased regulatory scrutiny on sterilization and how medical device companies can incorporate novel sterilization practices to continue ensuring the safety and effectiveness of medical technologies. Sterilization Engineers and Microbiologists from the Medical Device industry will have the opportunity to discuss key concerns while learning new strategies and best practices for improving internal processes. From reviewing crucial regulatory concerns to working effectively with an internal R&D team, the Medical Device Sterilization & Microbiology Conference will allow for robust educational and networking opportunities.
The following is a Q&A, featuring attendee feedback from the 3rd Semi-Annual Medical Device Sterilization Conference:
What drew you to the 3rd Semi-Annual Medical Device Sterilization Conference, and did it meet your expectations?
"The meeting defiantly met my expectations, as a non-technical person I was happy to say I picked up a few things on sterilization."
"My interest in sharing my knowledge and giving information to people in an attempt to do my small part to improve the healthcare industry."
Were the networking opportunities valuable to you? 
"Networking was good, I met a few folks in person that I only spoke with over the phone. I also picked up a couple new contacts in the university space."
"Yes,  I did make some good quality connections."
What are some key takeaways that you brought back to your office with you? 
"I picked a few things on the business side of the sterilization industry that I did not know about previously."
"The biggest takeaway that I got was the need for more knowledge in the industry.  I also found out how few people in the marketplace can do contract mechanical work to sterilization equipment."
Don't miss your chance to participate in the last Sterilization meeting of the year. Fill out the form to download the agenda, and see all speakers, formats, and topics.
WE GUARANTEE 100% PRIVACY, YOUR INFORMATION WILL NOT BE SHARED