PHARMACEUTICAL PORTFOLIO MANAGEMENT OPTIMIZATION CONFERENCE
JULY 23-24, 2018 | PHILADELPHIA, PA
SHERATON PHILADELPHIA DOWNTOWN HOTEL
Download Agenda
Register Now

Realization brings the power of Real-Time Scheduling to projects so that projects can be completed faster and more efficiently. Our more than 350 customers have realized more than $6 billion in additional cash and profits by managing their projects and resources with Real-Time Scheduling.
Traditional project and portfolio management is like driving with paper maps. Plans look good when they are created but become irrelevant as soon as delays, changes and disruptions happen. Lacking good plans, projects go off track and resources get wasted.
Real-Time Scheduling is like GPS for projects. It automatically reschedules your projects as changes, delays and disruptions happen. It tells everyone in your organization what tasks should be done next, alerts managers to future bottlenecks, and provides reliable forecast of completion dates.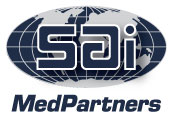 SAI MedPartners, established over 30 years ago, has a focused vision of providing clients with a new standard of decision support grounded in an intensive field oriented business research methodology. SAI has a long history of strategy support and a core capability in qualitative assessments to drive better market and competitor assumptions. This capability, combined with our expertise in forecasting and quantitative assessments, uniquely positions SAI to provide valuable product and portfolio decision support. Our global team consists of over 300 seasoned, industry experienced professionals with an unwavering commitment to excellence and the success of our clients.
SPONSORSHIP OPPORTUNITIES

At this time, there are a variety of sponsorship and exhibition opportunities available for companies wishing to increase their visibility and participation in the program, ranging from keynote speaking opportunities through to exhibitor and documentation sponsors. Organizations most suitable for this type of exposure provide services and solutions including:
Business Strategy Consultants
Due Diligence
M&A Specialists
Commercial Strategy
Financial Analysts
Licensing Consultants
Project Management Solution Providers

Contact:
Eric Jahnke | Sr. Marketing Manager | Q1 Productions
312.955.0424 | marketing@q1productions.com