9th Annual Strategic Patient Advocacy Engagement Conference
July 14-16, 2020 | Virtual Event
Target Audience:
Patient Advocacy
Global Patient Advocacy
Medical Affairs
Industries Represented:
Pharmaceutical
Biotechnolocy
Medical Device
Diagnostic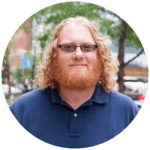 Contact:
Chris Cockerell, Senior Event Manager
Q1 Productions
+1 (312) 224-8722
ccockerell@q1productions.com
Defining the Role of Patient Advocacy Teams and Demonstrating Value within Life Science Organizations through Early Involvement of Patients in Clinical Trials, the Utilization of Digital Resources, and Coordinating Strategic Efforts with External Organizations
Patient advocates play a vital role as the conduit between manufactures and the customers they serve, but as companies continue to focus on monetary returns, many teams have struggled to justify advocacy investment as well independence within an organization. Recent developments in patient advocacy, such the FDA's renewed emphasis on early patient involvement and an abundance of digital resources, provide advocates with a wide range of options to serve patient populations while bringing value to an organization.
The 9th Annual Strategic Patient Advocacy Engagement Conference aims to virtually connect advocacy leaders to highlight these methods with practical examples on compliant utilization of social media, coordination with external organizations and international patient advocacy that will emphasize the necessity of a robust advocacy strategy while fully addressing patient needs. Topics will be addressed in the following online modules:
Module 1: Patient Advocacy and Strengthening Clinical Trial Outcomes
Module 2: Gathering Diverse and Representative Patient Feedback
Module 3: Demonstrating Value of Advocacy & External Partnerships
Individual modules are available for $595. The entire program may be accessed for $1,500. Please note, patients and non-profit groups are welcome to attend at a significantly discounted rate. Reach out to Aaron for more information.
FAQ
Explore the Virtual Event Guide & FAQ for insight into our dynamic event platform, including technical requirements, audio troubleshooting, detailed networking steps and more. Our mobile app, Q1 Events, mirrors onsite networking experiences so you stay connected.