9th Annual Medical Communications and Dissemination of Scientific Information Conference
September 14-16, 2020 | Virtual Event
Pricing:
$595 per module, $1,500 for the entire course
Target Audience
Medical Communications
Scientific Communications
Medical Affairs
Medical Information
Publications
Industries Represented
Pharmaceutical
Biotechnology
Medical Device
Diagnostic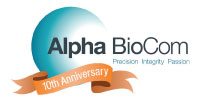 Optimizing Scientific Exchange of Product Information through the Employment of Comprehensive Messaging Strategies, Collaboration Best Practices with MSLs, and Development and Utilization Product Specific Scientific Platforms
Healthcare industry professionals and patients continue to voice the need for increased availability and transparency of product medical and scientific information. The task of ensuring proper and compliant dissemination of product data has become more complex as outreach avenues and expectations have risen, requiring medical communication teams to explore new methods to ensure messaging is openly available to all stakeholders.
This year's Medical Communications and Dissemination of Scientific Information Conference will virtually connect peers and expert presenters to dive deep into core challenges in the following modules:
Module 1: Medical Communication Content Development & Messaging Strategy
Module 2: Digital Health, Technology & Innovation
Module 3: Positioning Evidence In An Evolving Market
Individual modules are available for $595. The entire course may be accessed for $1,500.
FAQ
Explore the Virtual Event Guide & FAQ for insight into our dynamic event platform, including technical requirements, audio troubleshooting, detailed networking steps and more. Our mobile app, Q1 Events, mirrors onsite networking experiences so you stay connected.