Healthcare Forums Spotlight: Heather Brandon
Heather Brandon from OhioHealth is one of many experts who participated in Q1's Semi-Annual Healthcare Financial Forum in Chicago last month. Learn about her background, current role and upcoming initiatives below.
How has your career path led you to your current position?
I majored in accounting at Ohio Wesleyan University and became a public accountant. At my first firm, I had clients from every industry, but gravitated toward healthcare clients because of my background (in college I worked at a primary care physician's office).
After I finalized my CPA, I went to the healthcare only firm Blue and Company, LLC. I worked on auditing hospitals all over the Midwest. It was 90 percent travel, but I worked really hard in those early years and gained invaluable experience, especially working on interesting "fixer upper" rebuild projects.
When I got tired of what felt like living out of my car and hotels, I was recruited by a former client to the Ohio State University Wexner Medical Center. There was an influx of employed groups coming into the system and all of them needed standardized financial statements, payroll, accounts payable, billing, pension plans, vendor selections, etc. We worked to save them money by gaining efficiencies across all practices. This provided me many opportunities for career growth and invaluable tools on how to manage people. After about three years, I was promoted from accounting manager to controller.
I was then recruited by OhioHealth and named director of hospital support at Grant under Vinson Yates, who went on to become CFO for the system and is now president of OhioHealth Mansfield Hospital. I was promoted into my VP role after a couple of years. At the time, I was the youngest finance VP, as well as the only female finance VP, of a hospital in our system. My boss noticed the hard work I put into Grant and that I recruited great talent, so he expanded my responsibilities to include managing service line finance. I first took on oncology, then heart and vascular, followed by neuroscience. Later, my role expanded further to include financial systems deployment and OhioHealth O'Bleness Hospital in Athens. I have had a lot of great opportunities in the 11 years I have been with OhioHealth.
Can you please give a brief description of your job title and what that entails?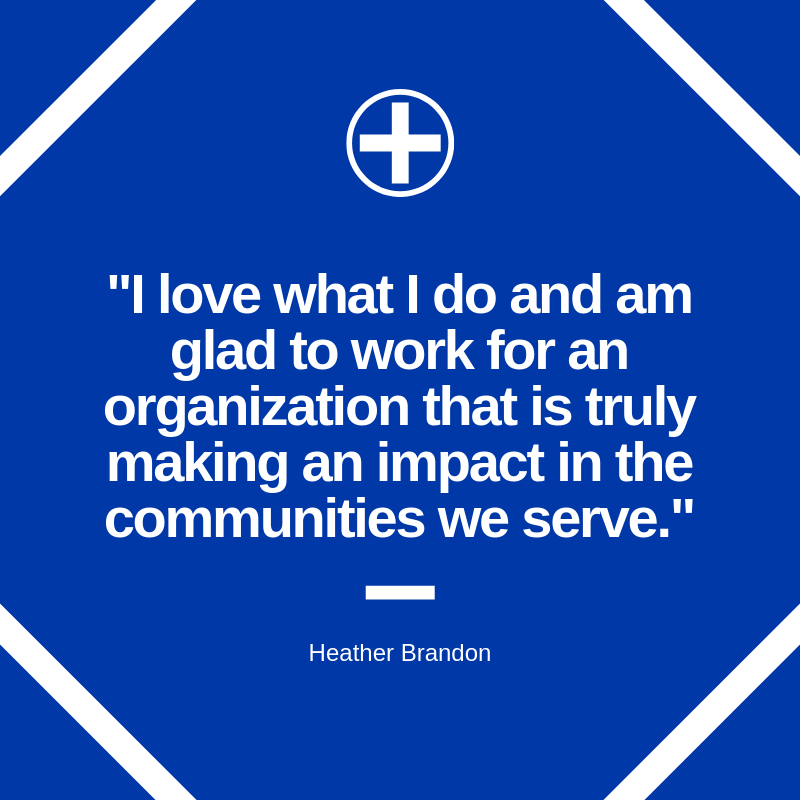 I oversee seven direct reports and an administrative assistant and am responsible for financial planning, including capital planning process for all of my entities. I am the primary liaison to corporate for all financial matters, whether they are filed locally or at the system level and am also responsible for adhering to all of the accounting policies and procedures for OhioHealth at three hospitals and the service lines, as well as some other facilities. I sit on our strategy and operations teams for the hospitals and my financial systems deployment team supports the back-end of all of our finance software applications.
My favorite part of my job is helping people grow and develop professionally and often personally. I love finding the right person for the right job. I have had two staff members that grew into managers, went through our emerging leaders program and are now service line directors who work for me again. I find it really rewarding that they came back! Two of my former directors are now VP's in our system and I feel so proud to have been a part of their journey.
I also try to be involved in the community and represent OhioHealth outside of our hospital walls. I recently joined the board for the American Red Cross – Buckeye Region and serve on boards for the Westerville Endoscopy Center, Downtown Endoscopy Center, COMTEX Linen, Pickerington Surgery Center and Foundation Fighting Blindness.
What are you focusing on now in the Healthcare Finance industry?
We're working on some really neat projects that will have a positive impact on our patients. Right now, we're looking at a medical respite program – a place where we can discharge our homeless patients so they have a safe, clean place to go while recovering. In some cases, patients don't need acute hospital care, but they need a healing environment. We're working with local organizations to create beds where these patients can be discharged and have a safe, clean place to fully recover with a medical team at 1/10th the cost they would have incurred in the hospital. I'm really proud of it.
We're also continuing to work on where we can be smarter and standardize and streamline our processes to reduce cost without sacrificing the quality care we give to our patients.
We've developed our new, innovative Short Stay Units to help keep people out of the hospital that don't need to be, saving them money while providing really good care. We're also working to reduce patient length of stay and prioritizing for discharge in partnership with case management. At Grant we have a downtown, inner city population with a lot of social determinants (like if nursing homes take them, access to a ride home, etc.) that can affect discharge. Even though I'm a finance person, I love the value projects. They are the right thing to do for the community and our patients.
We've been working to physically grow the hospital, too. We recently added 34 critical care beds, a vertical expansion adding a new fourth floor wing to the hospital since we are landlocked downtown.
How has being a women in a male dominated field affected your role?
Even though the healthcare industry is dominated by women – I recently read 75 percent of healthcare is made up of women, only 12 percent of them are CEOs and only 21 percent hold leadership positions at Fortune 500 companies – the finance field itself is very male dominated. I knew being in the finance world, I had to work hard and make myself stand out for my work product. In public accounting, I always made sure my metrics were as good as or better than my male colleagues. I always wanted to be prepared and I still do.
I have had great support from my colleagues, especially Shereen Solaiman, our system VP of HR strategy. She challenges me to be better and does not just tell me what I want to hear. She has continued to help me grow with her honest feedback and support. I think it's important to find people within your organization you can learn from, no matter where you are in your career.
I am really proud to be a woman in healthcare leadership. I worked many long hours and took on projects I was not sure I could do to get the experience I needed. And I still do. Work/life balance can be a little tricky, especially when you work with doctors – we typically will have meetings with them before or after typical business hours. But it is worth it. I love what I do and am glad to work for an organization that is truly making an impact in the communities we serve.
Save your spot for an upcoming Q1 Productions healthcare forum to hear from more financial experts in the industry. Join us this June in Houston, this September in Philadelphia and this October in San Diego for the latest in Healthcare Finance and Revenue Cycle Management.
Allison McIlvain
is a Content Marketing Associate for Q1 Productions, where she is responsible for campaign planning, content development and executing marketing projects for the life sciences, pharmaceutical and food and beverage industries.