GLOBALIZATION OF MEDICAL INFORMATION: THE JOURNEY FROM A LOCAL TO A GLOBAL MODEL IN LATIN AMERICA – A PFIZER CASE STUDY
PRODUCT INFO

Includes 1 Hour Windows Media Video File and PowerPoint presentations for immediate download.
The provision of quality information to customers – wherever they are – is not only a differentiator, but a mandate for industries working in the healthcare space. Medical Information serves as the foundation for effectively conveying scientific information by informing and educating patients and healthcare professional on products' safety and efficacy.
Medical Information professionals working with emerging markets have the difficult task of providing good services across a variety of countries with different cultures and regulations, ensuring consistency in the communication and effective resource allocation. This webinar will focus on Latin America and how Pfizer was able to successfully migrate from a local to a global Medical Information model to support its customers around the world and bring valuable insights for the company.
Creating the foundation for a successful globalization journey
Integrating language and cultural distinctions in strategy development
Compliance and regulatory considerations and concerns in Latin America
Utilizing the power of diversity to advance and add value
Speaker:
Viviane Arid de Lima
Medical Information Regional Lead, Latin America
Pfizer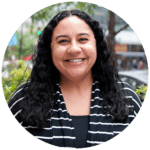 Contact:
Brooke Akins | Division Director, Life Science Programs
+1 (312) 224-1693 
bakins@q1productions.com​