SESSION OVERVIEW: TRENDS SHAPING THE FUTURE OF CANCER CARE & ONCOLOGY SERVICE LINES
May 18-19, 2017 | Philadelphia, PA The Menger Hotel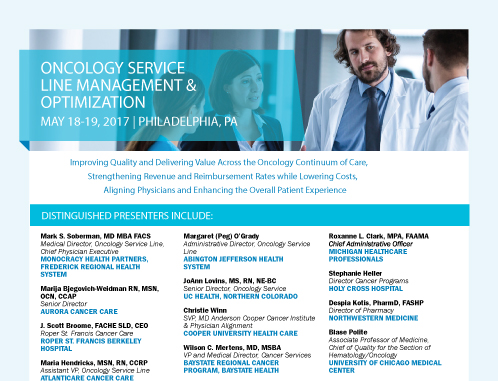 Please Complete Form to Download Your Agenda
ABOUT THIS SESSION TRENDS SHAPING THE FUTURE OF CANCER CARE & ONCOLOGY SERVICE LINES
In order to continue the dynamic growth of oncology service lines, and further the treatment of all types of cancer, service line administrators must identify trends, capitalize on new opportunities and quickly evolve in order to create a sustainable market position. The development of a strategic plan for short and long-term oncology services will ensure hospitals and health systems are prepared for changes in healthcare delivery resulting from a wide variety of factors including payment reforms, patient preferences and increasingly complex yet highly effective treatment options. Through a high level discussion on key drivers advancing service line growth and the future direction of oncology services, participants will have an opportunity to reflect on the evolution of oncology service lines while preparing for a dynamic future. • Development of an adaptable, future-proof service line strategy • Investing in new quality care measures for the future • Models of future oncology care needed by specific communities • Patient-centric approaches to service line reorientation.
Christie Winn, SVP, MD Anderson Cooper Cancer Institute & Physician Alignment COOPER UNIVERSITY HEALTH CARE
ABOUT THE CONFERENCE
Q1 has over a dozen years of experience in providing high level educational content for oncology service executives and is consistently ranked by participants as delivering quality program content, speaker selection, and facilitation.
This program is unique in that it encompasses expert perspectives from North America's most successful oncology treatment centers. All content is delivered by industry speakers as case studies, panel discussions, and traditional presentations so you will return to the office with tangible ideas that may be implemented immediately.
The program has been designed to deliver on three core pillars of educational excellence:
Peer-led case studies and master classes- Industry leaders from organizations such as Northwestern Medicine and Moffitt Cancer Center will lead solution driven, in-depth discussions about common industry challenges. You will come back to the office with a better understanding of how other oncology centers are successfully accomplishing optimizing oncology treatment for low-cost, high-quality care.
Professional development opportunities- The program draws a high-level audience, so the expertise gained from the other attendees will be as valuable as the presenters. Previous attendees include oncology leaders from May Clinic and Temple University Health System.
Structured networking- Throughout the two days, there are multiple peer-to-peer networking opportunities which will assist in building our mutual network. Coffee breaks and group lunches facilitated throughout each day will enable attendees to continue oncology service-driven discussions.
Download the agenda to see all the presentation topics, speakers and formats.
WE GUARANTEE 100% PRIVACY, YOUR INFORMATION WILL NOT BE SHARED