Takeaways: Food Label Claims Conference
Food Consulting Company was a proud sponsor of the Q1 Productions Food Label Claims: Mitigating Legal & Regulatory Risks Conference. The two-day conference had a full schedule of quality presentations on the implications of food claims, along with opportunities to network and brainstorm with industry leaders on best practices. A few key takeaways to share:
Words to the Wise: think like a plaintiff's attorney
Plaintiff's attorneys are always looking for new targets and this trend exploded in food starting around 2012. There is a federal preemption, but many states have strong consumer protection laws where consumers can form a class action based on accusations of consumer harm. Lawsuits for natural claims were a part of the first wave of class action lawsuits with some costing in the $1-3 million range and up to $10 million per suit. Hundreds of cases have been filed, and hundreds (if not thousands) have been settled quietly. Lawsuits for natural claims have been brought against companies like Dole, Hershey, Frito-Lay, Ocean Spray, Bai Brands and Pret A Manger. Companies are avoiding natural claims and moving toward "no artificial __" claims (ingredients, flavors, preservatives, colors). These claims are also finding their way into lawsuits, for example, targeting products with ingredients like malic acid, ascorbic acid and fumaric acid labeled with "no artificial flavors" claims. Other trends are for non-GMO claims, sugar-related claims, health halo claims and "made with real __" claims. A good rule of thumb is: "You can't use the back panel to correct a misimpression made on the front panel." Even though consumers can read the ingredient statement on the back panel, be careful what claims you put on the front label.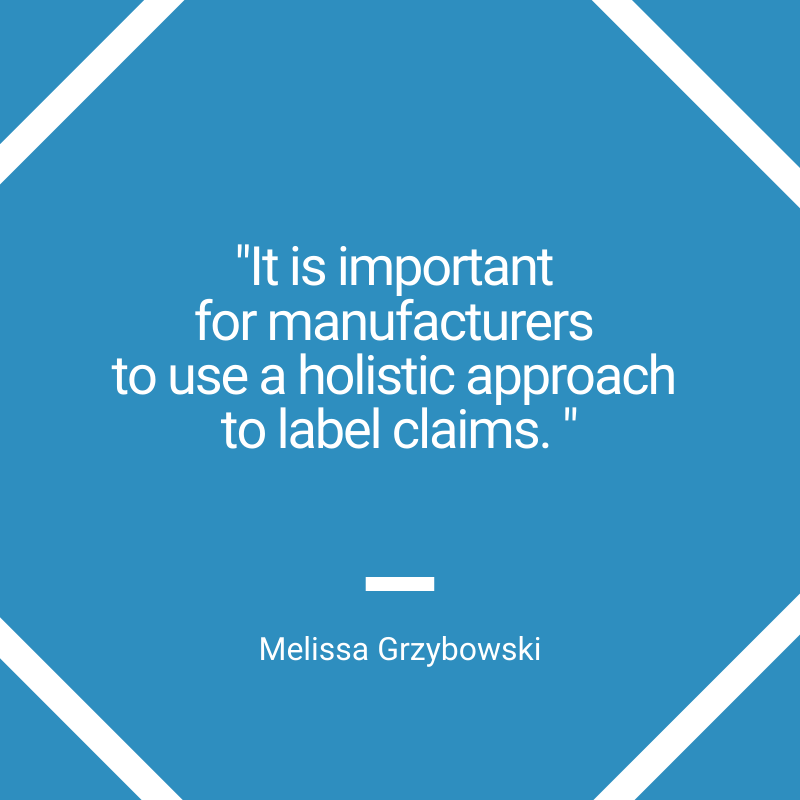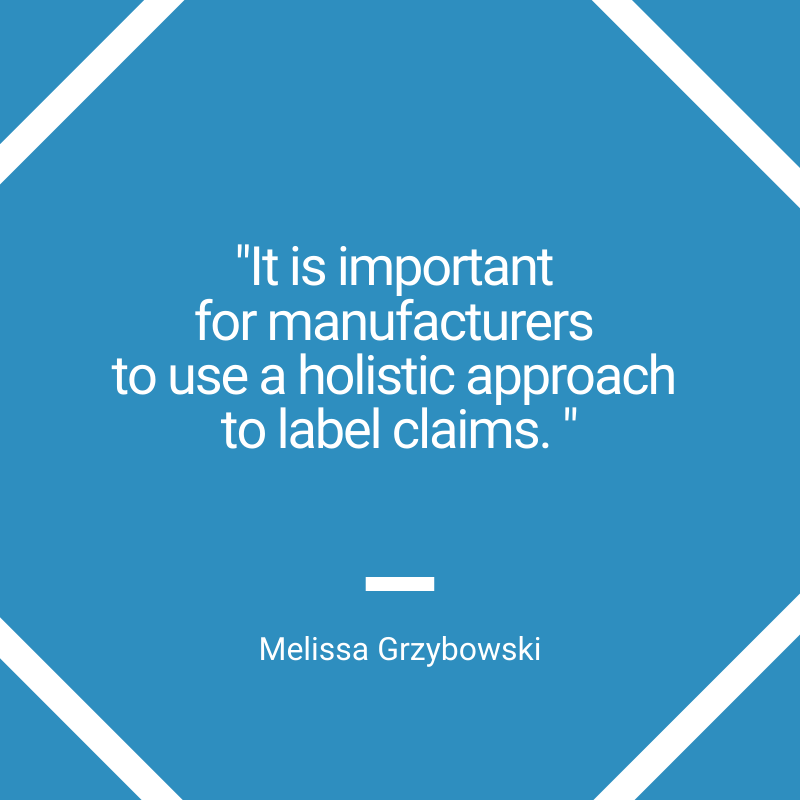 Health Halo Claims
What about claims that do not have a specific regulatory definition? It is important for manufacturers to look at the "net impression" of product labeling and use a holistic approach to label claims. Consider not just the claims on the package, but also the website, product advertising and the scripts used by the consumer response team. Above all, FDA and FTC require labeling to be truthful and not misleading. How do your graphics, web presence and romance copy put your product at risk? How do you define terms like "clean label" and others like "made with" claims that aren't defined and are based on consumer expectation? What do these claims mean to consumers and how can you substantiate them? Just because it's truthful, doesn't mean it's without risk – a 10 lb. bag of sugar is "plant based" too. All elements of the labeling need to be assessed and should be taken into consideration when determining consumer perspectives.
Dynamic CBD/Cannabis Environment
In 2018, the Farm Bill broke hemp and its derivatives out from the definition of the schedule 1 controlled substance marijuana plant, but USDA has yet to make rules around growing and harvesting the plant. Individual states are allowed to regulate hemp cultivation within their state and as a result there is a patchwork of different laws depending on the state you produce and sell cannabis products in. Because of the regulatory changes, there has been an influx of CBD use in over-the-counter products, cosmetics and food. From a federal perspective, FDA has determined that hemp seed is the only ingredient with GRAS status for food and Epidiolex is the only approved CBD drug. FDA has published a position that CBD is not allowed in food, however, state rules and laws are evolving daily and there is much variability at the state level. Check out this blog for up to date information: https://www.cannalawblog.com/category/hemp/
Save your spot for an upcoming Q1 Productions Food Label Claims or Food Labeling Conference today to dive deeper into these topics.