7TH ANNUAL EU DEVICE AND DIAGNOSTIC REGULATION CONFERENCE
SEPTEMBER 25-26, 2017 | BRUSSELS, BELGIUM | PARK INN BY RADISSON BRUSSELS AIRPORT
Download Agenda
Register Now
SPONSORS

Clinlogix a decidedly different CRO.
At Clinlogix, our goal is to facilitate an Innovation Pathway for the Life Sciences. Our expertise is in shepherding our client's investigative products from the bench to the bedside/concept to cure. Working together with inventors, investors and regulatory agencies early and often to oversee and execute each project. The key to success is pairing them with strong scientific and regulatory leadership with the ability to execute on the strategy. Since 1998 Clinlogix has been partnering with clients delivering high-quality, client specific clinical development support services to the Bio-Pharmaceutical, Medical Device and Diagnostic Industry worldwide.

World Class Label Management Software
PRISYM ID designs and delivers label management software for organizations that need complete product auto-identification and lifecycle traceability. With the continual tightening of labeling regulations and audits, PRISYM ID empowers its clients to safeguard their reputation by ensuring compliance, removing risk and significantly reduce costs by eliminating recalls through labeling errors. PRISYM ID is the market leader in providing validatable world-class label lifecycle management, and is trusted for delivering personalized service excellence to clients.
SPONSORSHIP OPPORTUNITIES
At this time, there are a variety of sponsorship and exhibition opportunities available for companies wishing to increase their visibility and participation in the program, ranging from keynote speaking opportunities through to exhibitor and documentation sponsors. Organizations most suitable for this type of exposure provide services and solutions including:
European Regulatory Affairs Specialists
International Regulatory Consultants
Clinical Research Organizations
Quality Assurance Software Provider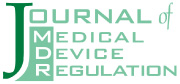 The Journal of Medical Device Regulation is intended to educate, provide professional guidance, develop core competence of regulatory professionals, and promote debate on fundamental and topical matters within the medical device industry. In addition to publishing medical device regulatory affairs review and discussion articles by opinion leaders from the device community, the Journal summarizes the news headlines from around the world and provides useful reference information in the form of charts and briefing documents.

Life Science Network is a relaxed forum in which thousands of life science executives, scientists, entrepreneurs, investors and media professionals come together for easy communication, to make new connections, find new ways to collaborate, and help one another find the latest jobs or partnering opportunities. Join our community for free today at LifeScienceNetwork.com

Contact:
Eric Jahnke | Sr. Marketing Manager | Q1 Productions
312.955.0424 | marketing@q1productions.com