 Semi-Annual Healthcare Financial Forum: Chicago
March 7-8, 2019 | Chicago, IL
JW Marriott Chicago
WE GUARANTEE 100% PRIVACY, YOUR INFORMATION WILL NOT BE SHARED
Curious what a Q1 Productions Forum looks like?
Here are highlights from the 2018 Forums hosted in Philadelphia. Special thanks to Infinix for putting this together.
About the Forum:
Hospitals, Health Systems & Integrated Delivery Networks throughout the United States are facing a wide range of challenges in the continued progression towards value-base care delivery and corresponding payment structures. Uncertainty regarding future health policy changes, consolidation in the payer market alongside restricted networks are only a portion of the difficulties faced by finance executives as they look towards creating financially viable organizations which are highly efficient while delivering outstanding patient care.
Topics Being Addressed Include:
Improving the Financial Health of Hospitals & Health Systems
Impact of Evolving Health Policy on Healthcare Finance
Role of Finance Teams in Payer Negotiation & Contracting
Opportunities in Healthcare Revenue Cycle Optimization
Leverage of Healthcare Technology in Finance Operations
Leadership Development Excellence in Finance Teams
Program Highlights:
Format Focuses on Small Group, Executive Dialogue
Restricted Number of Didactic Presentations
Pre-scheduled Networking Meetings with Suppliers


15 Speakers
all from US-based non-profit and commercial hospitals and healthcare systems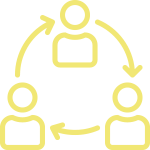 Networking time build into the agenda to allow industry peers to connect and exchange ideas.

Open Dialogue and Group Share

Boardroom discussions are designed to maximize peer to peer learning and knowledge share.