10th Semi-Annual Life Science CFO Strategic Governance Forum

June 12-13, 2017 | Philadelphia, PA
Loews Philadelphia Hotel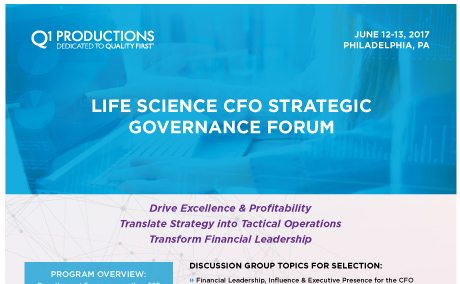 Please Complete the Form to Download the Agenda

ABOUT THE FORUM
Q1 has over a dozen years of experience in providing high level educational content for executive leaders within the life science industry and is consistently ranked by participants as delivering quality program content, speaker selection, and facilitation.
This program is unique in that it incorporates boardroom structured discussions which encourage attendee participation and promote experience sharing. Forum content will not be diluted by mandatory vendor meetings, meaning executives can decide when and if they want to meet with vendors during the event.
The program has been designed to deliver on three core pillars of educational excellence:
Peer-led case studies and master classes- Executives from the top 50 pharmaceutical and medical device companies will lead solutions driven discussions focused on common industry challenges and pressing executive concerns. You will come back to the office with a better understanding of how other companies are successfully navigating industry challenges.
Professional development opportunities- Attendees will have the opportunity to discuss conference material through boardroom-like discussions. The program involves a primarily executive-level audience, so attendees will be able to share with and learn from their peers.
Structured networking- Throughout the two days, there are multiple peer-to-peer networking opportunities which will assist in building our mutual network. Attendees will have the opportunity to participate in an icebreaker and facilitated group dinner, to widen their executive network.
Download the agenda to see all the presentation topics, speakers and formats.
WE GUARANTEE 100% PRIVACY, YOUR INFORMATION WILL NOT BE SHARED