DOWNLOAD THE AGENDA: 6th Semi-Annual Device and Diagnostic Labeling Conference
April 27-28, 2017 | Arlington, VA
Sheraton Pentagon City Hotel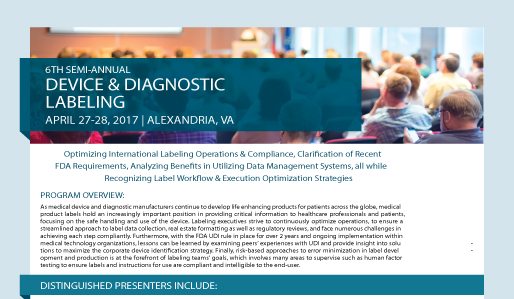 Please Complete the Form to Download the Agenda

ABOUT THE CONFERENCE
As medical device and diagnostic manufacturers continue to develop life enhancing products for patients across the globe, medical product labels hold an increasingly important position in providing critical information to healthcare professionals and patients, focusing on the safe handling and use of the device. Labeling executives strive to continuously optimize operations, to ensure a streamlined approach to label data collection, real estate formatting as well as regulatory reviews, and face numerous challenges in achieving each step compliantly. Furthermore, with the FDA UDI rule in place for over 2 years and ongoing implementation within medical technology organizations, lessons can be learned by examining peers' experiences with UDI and provide insight into solutions to maximize the corporate device identification strategy. Finally, risk-based approaches to error minimization in label development and production is at the forefront of labeling teams' goals, which involves many areas to supervise such as human factor testing to ensure labels and instructions for use are compliant and intelligible to the end-user.
To provide participants with the best learning experience possible, the program will include a UDI-specific track, open to those in need of further clarification into device identification challenges. As in all Q1 conferences, speakers from the industry, standard organizations and regulatory bodies will provide timely insight on topics impacting labeling operations through engaging presentations and interactive sessions. Further areas of labeling challenges will be examined in great depth and debated during lively Q&A sessions following each presentation, allowing for a maximized number of key messages delivered on site. With labeling executives actively looking for new technology and solutions for streamlining labeling programs, sponsors will find this conference to be an excellent business development opportunity.
WHO SHOULD ATTEND:
Participants in the Medical Device & Diagnostic Labeling Conference will represent leading Medical Device Corporations concerned with the appropriate development, design and delivery of labels for medical products that meet expanding regulatory requirements. With presenters bringing dozens of years of combined labeling experience to the speaker platform, attendees with the following job functions will find this program of great interest:
Labeling
Quality Assurance
Manufacturing Operations
Packaging
Document Control
Regulatory Affairs
This program has also been designed to meet the needs of executives representing third party packaging and printing firms.
WE GUARANTEE 100% PRIVACY, YOUR INFORMATION WILL NOT BE SHARED