OVERVIEW DOWNLOAD:
12th Annual Medical Device & Diagnostic Sales Training & Development Conference

February 26-27, 2019 | Charlotte, NC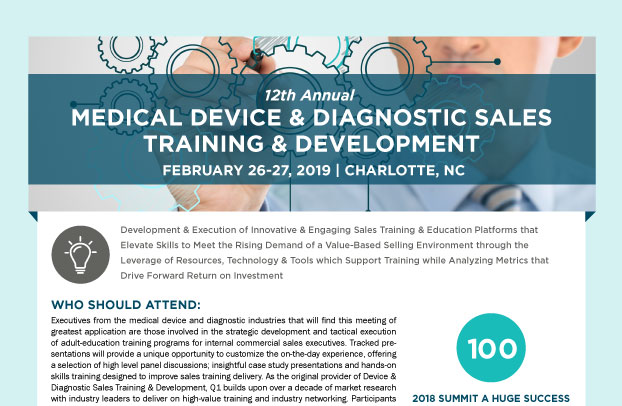 Please Complete the Form to Download the Overview

WHO SHOULD ATTEND
Executives from the medical device and diagnostic industries that will find this meeting of greatest application are those involved in the strategic development and tactical execution of adult-education training programs for internal commercial sales executives. Tracked presentations will provide a unique opportunity to customize the on-the-day experience, offering a selection of high level panel discussions; insightful case study presentations and hands-on skills training designed to improve sales training delivery. As the original provider of Device & Diagnostic Sales Training & Development, Q1 builds upon over a decade of market research with industry leaders to deliver on high-value training and industry networking. Participants most applicable for the meeting include Vice Presidents, Directors, Managers, and Heads of:
Sales Training & Development
Learning & Development
Professional Education
Training & Education
Sales Operations
Field Sales Training
CORE TOPICS TO BE ADDRESSED:
Leverage of training as a strategic tool in corporate organizational development
Ensuring sales & commercial team skills align with value-driven customer views
Full-scale sales competency: Recruiting, training, development & succession planning
Development of enhanced skills: Value-based selling & engaging presentation skills
Execution of global sales training for disruptive medical device technologies
Field sales training excellence: Engaging sales representatives in further education
Evaluation & redevelopment of established device sales training programs
Management skills training & enhanced coaching support for device sale reps
Training tools & technologies of greatest value to device sales training organizations
Hands-on, interactive train the trainer sessions to engage participants as learners
Gold standard training tools, technologies and techniques to elevate sales skills
PLUS+ SKILLS TRAINING WORKSHOPS:
Sales Rep Management
Enhanced Coaching Skills
Value-based Selling
Field Sales Training
Effective Presentation Aids
Practical Gamification Tools
*Skills training workshops will focus on sharpening transferable sales and sales training skills in a hands-on, interactive style format.
WHO SHOULD ATTEND
Executives from the medical device and diagnostic industries that will find this meeting of greatest application are those involved in the strategic development and tactical execution of adult-education training programs for internal commercial sales executives. Tracked presentations will provide a unique opportunity to customize the on-the-day experience, offering a selection of high level panel discussions; insightful case study presentations and hands-on skills training designed to improve sales training delivery. As the original provider of Device & Diagnostic Sales Training & Development, Q1 builds upon over a decade of market research with industry leaders to deliver on high-value training and industry networking. Participants most applicable for the meeting include Vice Presidents, Directors, Managers, and Heads of:
Sales Training & Development
Learning & Development
Professional Education
Training & Education
Sales Operations
Field Sales Training
WE GUARANTEE 100% PRIVACY, YOUR INFORMATION WILL NOT BE SHARED