7th Annual Medical Communications and Dissemination of Scientific Information Conference Agenda

March 8-9, 2018 | Boston, MA
Boston Park Plaza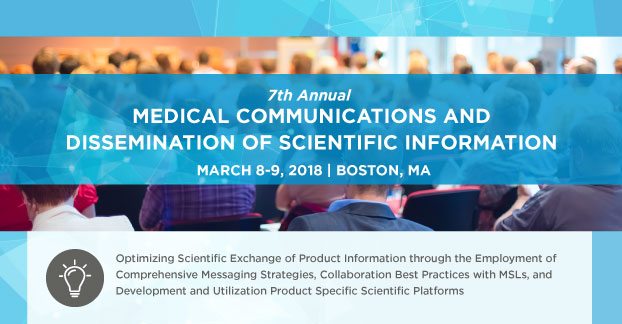 Please Complete the Form to Download the Agenda

ABOUT THE CONFERENCE
Be part of the most in-depth discussions on the biggest challenges facing medical and scientific communications today! Join us for the 7th Annual Medical Communications and the Dissemination of Scientific Information Conference and put your company on the forefront of the industry. Network with peers and industry leaders and explore global communications, compliance standards, tailoring messages, and more. Take a look at what you can expect this year:
Pull through strategies to enhance internal messaging strategies
Interactive workshops about disputes and message content alignment
Development strategies for comprehensive scientific platforms to support medical communication operations
Check out just a few of the highlighted sessions:
Ensure Message Consistency Through Development of Detailed Scientific Platforms – Led by Suniel Malhotra, Director, Head of Scientific Communication and Education – Oncology from Bayer
Utilization of Medical Communication Messages and Publications to Assist With Study Engagement – Led by Karen Ann Cherkis, Director of Medical Affairs Training and Field Alignment of Tesaro, Inc.
Pull Through Strategies: Leveraging MSL Team Knowledge to Adapt Internal Objectives – Led by Megan Hall, Director, Medical Communication of Jazz Pharmaceuticals
ABOUT THE CONFERENCE
As the stakeholders within the healthcare industry continually evolve, medical communication executives are tasked with the challenge of providing extensive support to assist in increasing awareness regarding products' medicinal benefits through thorough educational and promotional publications and messages. With the continued changes to the avenues utilized for message distribution and the tone of physician interactions, medical communication executives must continually ensure product messages remain impactful. Through detailed case study presentations and open forum panel discussions, this year's presenters will address a wide range of issues from global message consistency, utilization of online platforms for message communication through to MSL relationship management and development of congress materials.This program will emphasize industry thought leaders including medical communication executives, legal experts and key field knowledge leaders, who as presenters will share lessons learned, knowledge and best practices which will be a fantastic benefit to all attending delegates.